Backlot Estimated Delivery Date


It is now possible to provide "Estimated Delivery Dates" through Backlot. This provides all stakeholders visibility into the scheduling of work. The "Estimated Delivery Date" is used by Fulfillment Partners to notify project stakeholders of delivery delays. This has no bearing on the actual Due Date itself, which is rigid and determined by contractual considerations.
The data is exposed in the "Estimated Delivery Date" column in your dashboard: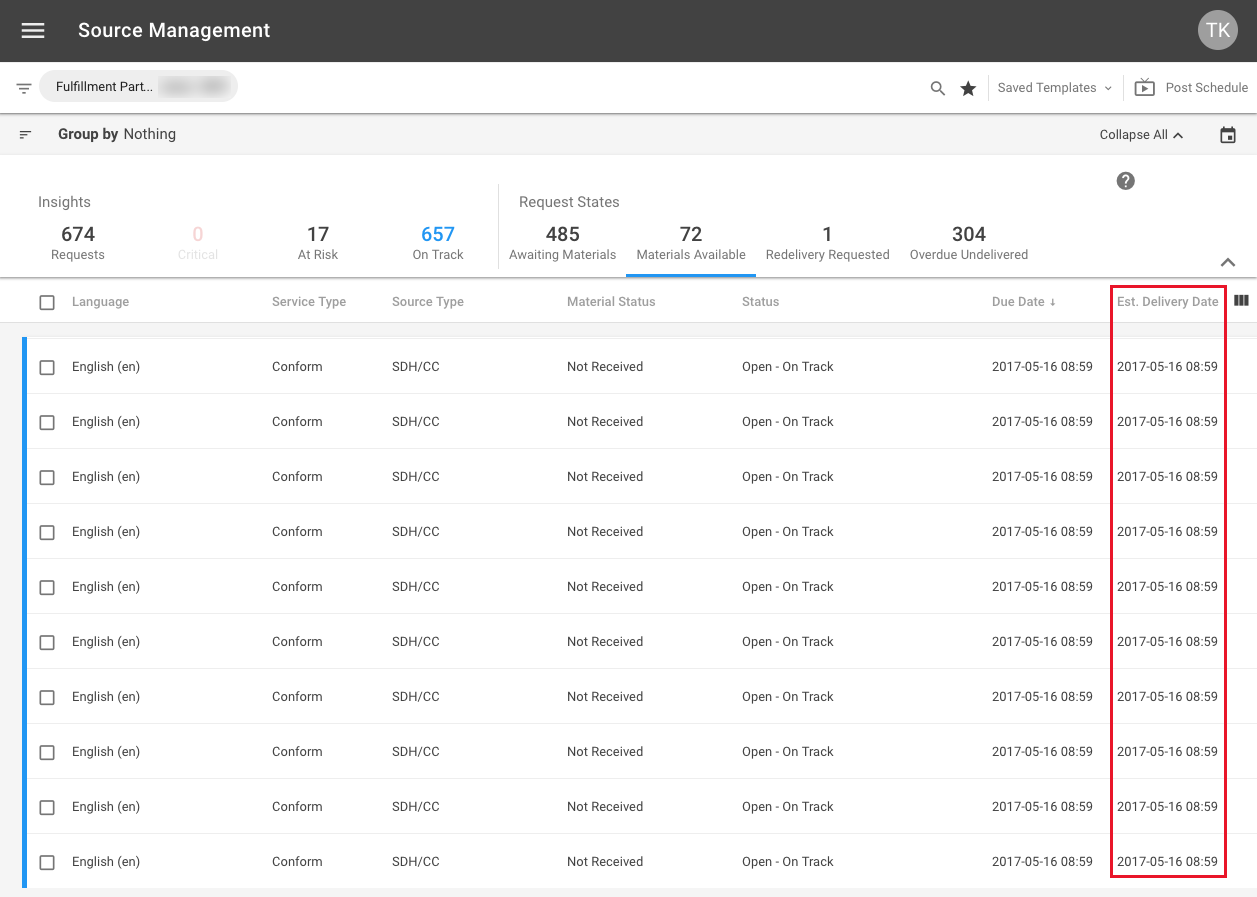 Make sure "Est. Delivery Date" is selected from your Customizable Column list.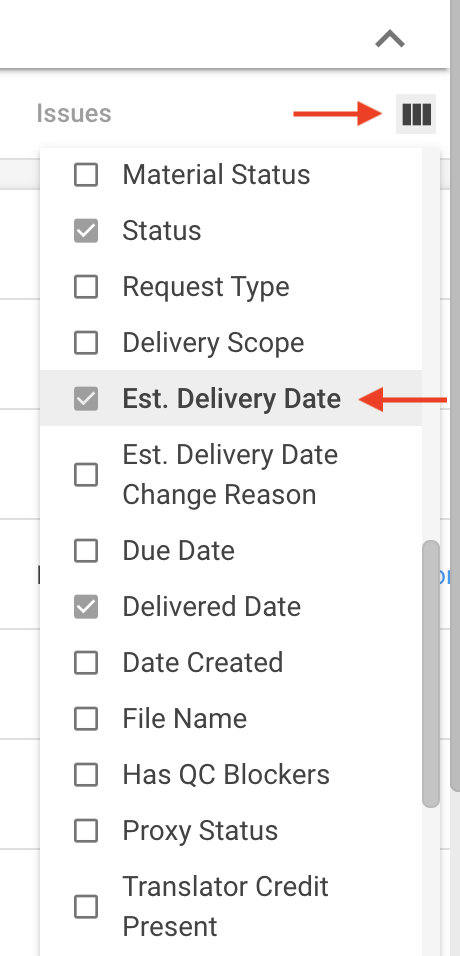 By default, the "Estimated Delivery Date" will be set to match the "Due Date", but can be edited by Fulfillment Partners once the processing of material has been scheduled.
Use the following search modifiers to narrow your search to address upcoming and/or endangered Estimated Delivery Dates.
Status:

Open
Status:

Redelivery Requested
Est. Delivery Date:

This Week (Optional if you want to look for longer/different time frame)
Additional modifiers, such as Movie ID and/or Source Type, can return a more focused list depending on what is required. To edit/change the Estimated Delivery Date, simply select the Source Requests you wish to update using the tick boxes. Once selected the "Bulk Action" menu will appear at the bottom of the screen. Select the "Edit Estimated Delivery" button:

A fly-out panel will appear on the right-hand side of the UI: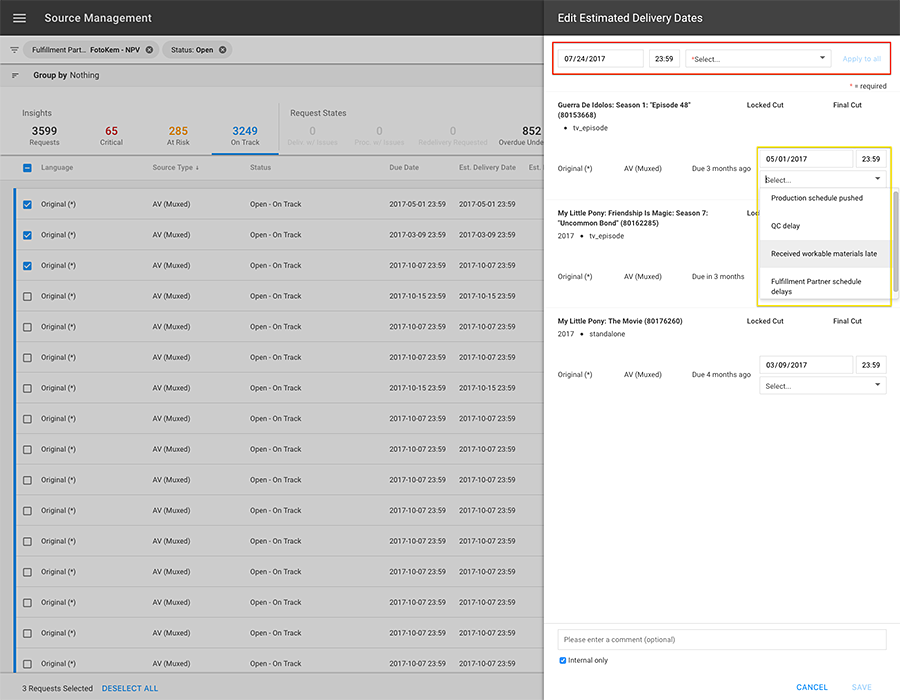 Here you have the opportunity to edit all source requests in bulk using the Date/Time boxes at the top and clicking "Apply to all" (highlighted in red). Alternatively, you can go through and give each Source Request a unique "Estimated Delivery Date" using the Date/Time boxes (highlighted in yellow).
In addition, you will need to select a reason for the adjusted due date from the drop-down menu.


Definitions and potential use-cases for each of these reasons can be found in the table below. In addition, please refer to the "Type(s) of Content" we expect these reason codes to be associated with:
Reason:
Type(s) of Content
Definition:
Example(s):

Production schedule pushed

Original &

Licensed Conten

t

*

Any pushes in the production (e.g. shooting) schedule which the FP does not have control over.



*

Licensed Content:

This reason code has a very limited and specific use-case for Licensed Content. The vast majority of Licensed Content consists of completed acquisitions in which production has already finished. As such, this reason code typically does not apply. The only scenario when this EDD reason code should be used for Licensed Content is when there are delays in physical production, (e.g. shooting schedules), preventing you from receiving source materials for delivery to Netflix. If no physical production is taking place, this reason code should not be used.

The show did not start shooting the first episode until 3-weeks after the originally anticipated date due to unforeseen issues.

QC delay

Original Content

If pre-QC results are not provided in time for the creation of deliverables. This is specifically referring to Master QC results oftentimes required in the creation of deliverables for Original/Branded workflows.

Pending pre-QC results for the VDM delays IMF creation/delivery; pre-QC results for M&E audio delays secondary audio creation/delivery, etc.

Received workable materials late

Original & Licensed Content

The prerequisite source material(s) which are needed to create & deliver the target asset in Backlot is not available.

Including, but not limited to: Source Request Assignment, Netflix final proxies, audio M&E, audio printmaster, dialogue list/dubbing script, color-corrected master, etc.

Fulfillment Partner delays

Original & Licensed Content

The due date has been jeopardized for reasons not listed above. All prerequisite source materials were received when originally scheduled and delivery delays were attributed to mismanagement of internal resources.

1. The VDM and final mix were provided on-time, but the IMF was not successfully delivered due to mistakes which were flagged in IaaS (Inspection as a Service).

2. Printmaster + M&E, final proxies, and dub scripts/dialogue lists were provided to a facility managing dubbing, but the mix was not QC'd and delivered in time due to scheduling issues during recording, etc.

Early Delivery

Original Content
Recommended for Licensed Content

When working with branded content, vendors are required to update the Estimated Delivery Due Date when source requests are expected to deliver earlier than the due dates provided in Backlot. There are many downstream dependencies when a vendor delivers an asset (e.g. QC), and this information provides Netflix with the ability to be more flexible and proactive with the allocation of our resources.

1. You received foreign dialogue tracks from a dubbing facility earlier than expected, enabling you to mix, QC and deliver earlier than the due date provided in Backlot.

2. The episode/feature finished online editorial earlier than expected, pre-QC was completed (if applicable), and you now have access to the VDM and final mixes -- enabling you to create your IMF and deliver earlier than the due date provided in Backlot.

Redelivery Requested by Netflix

Original & Licensed Content

N/A

This reason code should be used whenever an Estimated Delivery Due Date is updated due to a Redelivery Request being issued. This is done to communicate to Netflix when we can expect the redelivered file, which, in many cases, is usually later than the originally specified EDD/Due Date in Source Management.

Once you have entered your desired dates either in bulk or individually, click "Save".
Whenever updating "Estimated Delivery Dates" in Backlot, be sure to leave a comment to notify your Netflix Representative.
* Please note that if you are unable to see this column you may need to enable it within the "Customize Column" drop-down menu.
---

Change Log:

2020-05-13
Added Process - Instructions to add Custom Column List and narrowing the results to return source requests requiring EDD attention.
2018-10-26
Revised Process- Clarified Netflix's expectations regarding which Estimated Delivery Date reason codes should be used for which type(s) of content (Originals vs. Licensed).
2018-01-23
Revised Process- Provided a new entry for Estimated Delivery Date reason codes ("Redelivery Requested by Netflix").

2018-01-12
Revised Process- Provided definitions and examples for each of the Estimated Delivery Date reason codes.

2017-07-17
Revised Process- Added new UI images and description to reflect the Reason Code drop-down menu.

2017-05-11
Revised Context – Updated verbiage to clearly distinguish between "Estimated Delivery Dates" and "Due Dates".
Revised Process – All changes to "Estimated Delivery Dates" in Backlot should be accompanied by a Backlot comment.

Was this article helpful?
5 out of 5 found this helpful