Question:
How do I contact Content Hub support?
Answer:
If you require assistance you can contact the Content Hub Support from within the Content Hub UI by clicking on the "?" icon located at the top right hand corner of the screen.
This will bring up the "Submit Ticket" dialogue: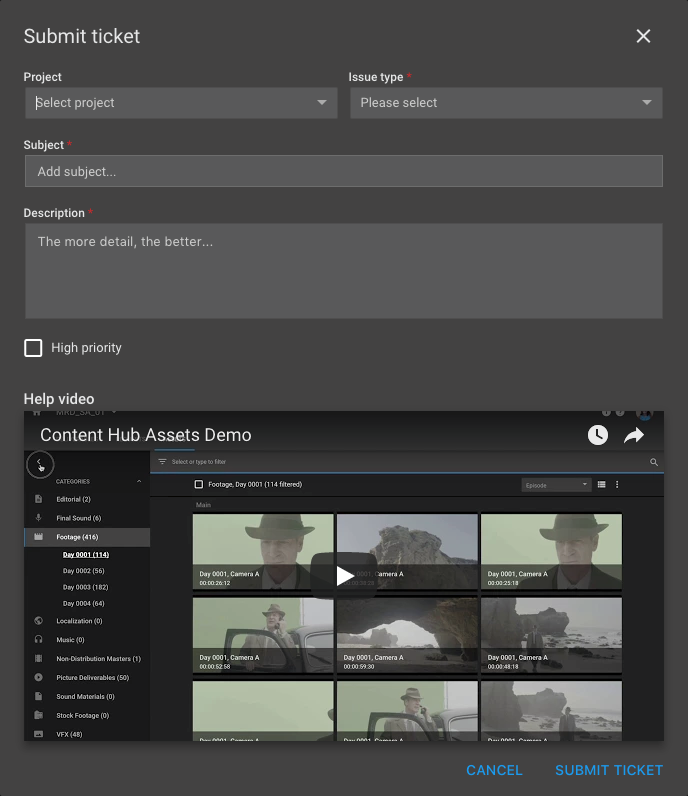 The "Project" field will allow you to search and select any Content Hub project you have been granted access to. Take care to ensure the correct project is listed, if you do not know what project to list, or there are no projects to choose from, the field can be left blank.
The "Issue Type" field will provide you a number of options. Each option will display a short description or example. Select the most appropriate option for your particular issue.
Next enter an appropriate subject and description. Please be as specific as possible in your description in order to assist with troubleshooting.
If your query is "High Priority" please use the tick box to indicate this.
High Priority tickets will be actioned within 1 hour (calendar). Regular tickets will be actioned with 8 hours (calendar).
Please note that the time taken to fully resolve your issue will vary depending on the issue at hand.
Was this article helpful?
3 out of 11 found this helpful