Context
Netflix Production Technology & Operations Team has created a submission form for collecting both passed and failed Photosensitive Epilepsy (PSE) test results. This allows for results to be more easily tracked and surfaced for a potential warning in the Netflix UI, as photosensitivity testing may be completed at various stages of production.
Only Netflix original animated and anime productions require PSE testing at this time. This article is intended for these productions or their vendors who may be conducting testing on their behalf. This procedure also applies to Netflix Branded Content QC vendors performing source level reviews in Asset QC for Netflix animated originals.
Please note that testing thresholds must match those outlined by the ITU BT-1702 specification. While testing parameters for HDR content have been recently defined in this specification, please do not test HDR content unless you or your testing vendor are sure that your testing software is up to date with this new specification. Otherwise, please use a tone mapped SDR (Rec709) export for testing HDR titles. Approved testing tools and formats are noted in the appendix below.
Ad hoc testing may be requested on live action content by Netflix. If this occurs, please submit results through this form as well.
Key Terms
Photosensitivity - a medical condition where flashing lights or quickly changing color patterns in video content can trigger various symptoms. Viewers who do not experience epilepsy can still be susceptible to effects from photosensitivity.
Photosensitive Epilepsy (PSE) - a medical condition where flashing lights or quickly changing color patterns in video content can trigger epileptic seizures in some viewers.
Potentially Harmful Flash - a series or sequence of luminance changes at a certain rate that may trigger seizures in some users. Specifics of the flash can be found in ITU BT-1702 specification.
PSE Test - Software based scan test that interpolates video content and detects harmful flashes. The Harding test is a commonly used moniker for this, and is a branded version of the software used to test for potentially harmful flashes. Harding is not the only software that provides this kind of testing. Other software based tools can provide the same kind of testing, and are listed at the end of this article in the Testing Tools section.
FPA - FPA stands for Flash Pattern Analysis, and is an algorithm created by the Cambridge Research Systems group. More information linked here.
PSE Test Results Submission Instructions
Please complete the linked Google Form to submit completed test results to Netflix, regardless of pass or fail status. If a vendor is running tests on your content, please ask them to fill out this form after completing a PSE test. Netflix episode or standalone movie IDs can be obtained from Netflix Asset Management if needed.
For Netflix Branded Content QC Partners: This form will also be required for PSE tests conducted during source level reviews of Netflix animated originals in Asset QC. In these cases, the movie ID can be obtained from the request itself:
After the first part of the form is complete, there are two optional sections. The first optional section is for you to provide a summary of any warnings or errors found during PSE testing.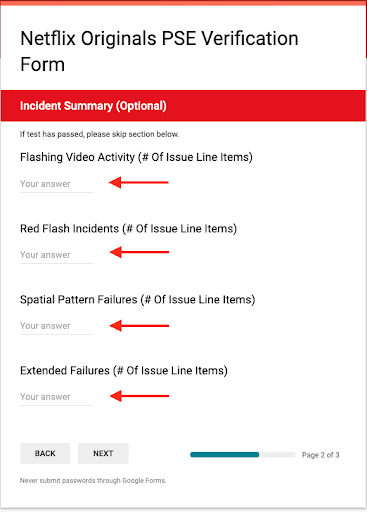 These are often summarized on the report output from popular PSE testing tools, in a section that resembles the example below: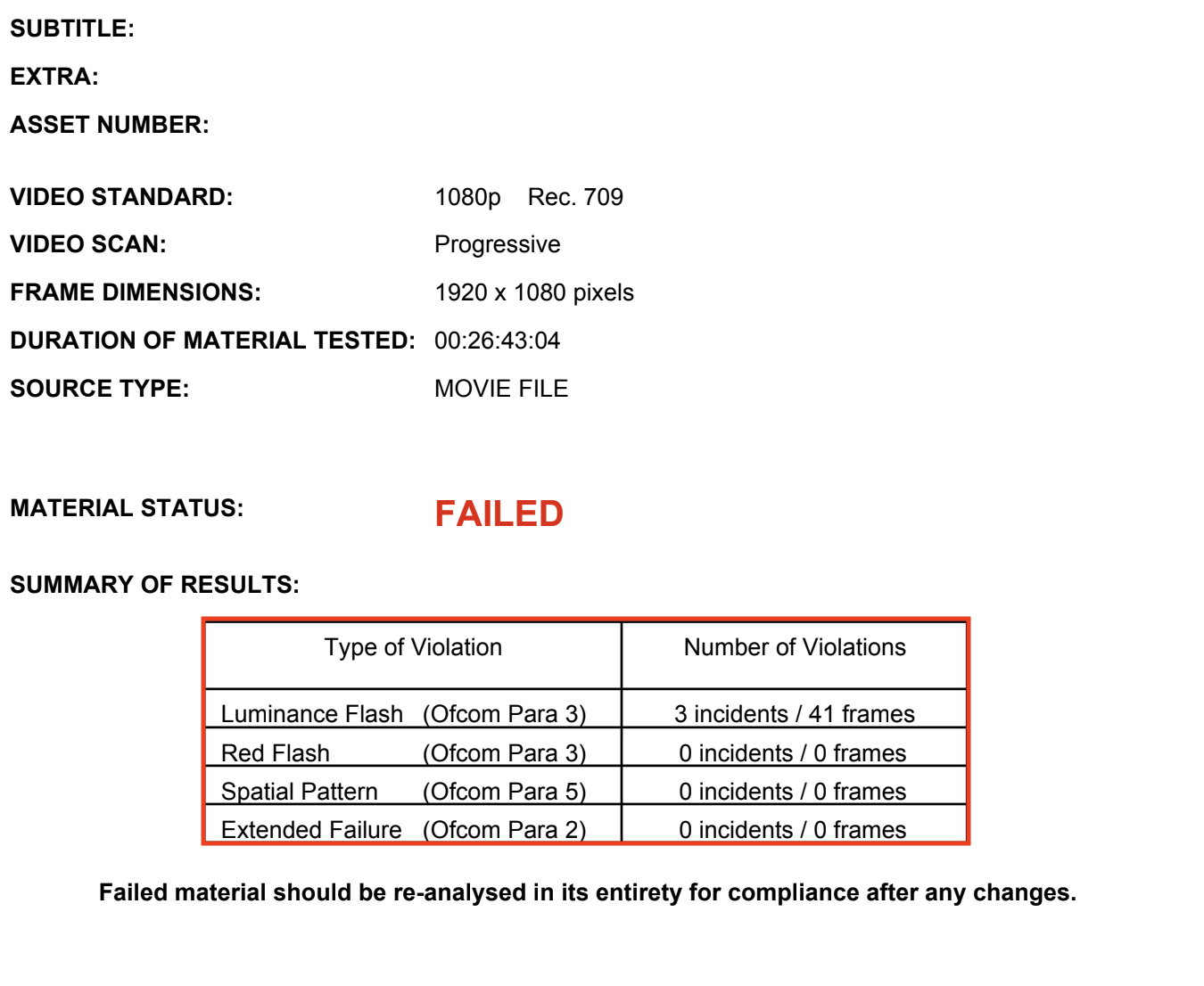 The final optional section will link to you a portal for uploading your PSE test report or certificate to Netflix. Before or after completing upload using this separate form, please be sure to enter its filename in this section, so that reports can be correlated with the testing results Netflix has received.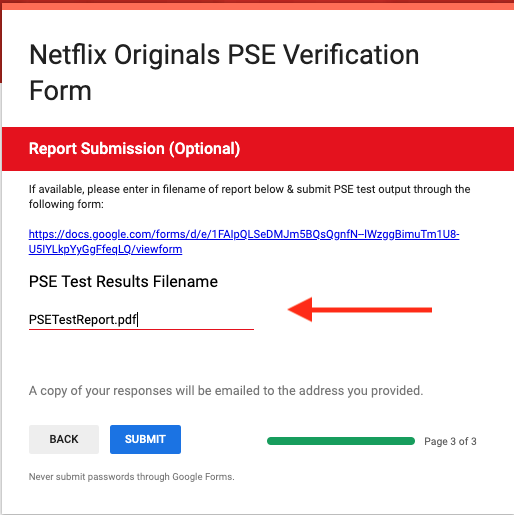 For any questions relating to PSE testing or timelines, please contact your Netflix Post Production or Production Technology & Operations representative.
Appendix
PSE Testing Tools & Accepted Formats
Company

Product Version(s)

PSE Version

Accepted Testing Picture Formats

Cambridge

Research Systems

FPA Desktop V3.5 or later

FPA V3.4

QuickTime (self contained & reference) encoded with any codecs available in QuickTime library on host system, common examples: ProRes, DNxHD, H.264.

OP1a & OP-Atom MXF encoded in the following formats: DV, DVCPRO, DVCPRO HD, DNxHD, AVC Intra, IMX 50, AS11 (DPP).

Can use FFMPEG library to decode the following formats: D10 (IMX), DV, DVCPRO, DVCPRO HD, DNxHD, MPEG1VIDEO, MPEG2VIDEO, H261, H263, RV10, RV20, MJPEG, MJPEGB, MPEG4, MSMPEG4V1, MSMPEG4V2, MSMPEG4V3, WMV1, WMV2, H263P, H263I, FLV1, H264, INDEO3, VP3, THEORA, ASV1, ASV2, FFV1, MSVIDEO1,SNOW, XVID, FFVHUFF, INDEO2, FRAPS, VP5, VP6, VP6F, FFH264.

SD (PAL/NTSC) or HD SDI Baseband Video Up To 1080p60.

FPA Server V3.0.0 or later

FPA UK Digital V0110 or later

AS11 (DPP) MXF

Tektronix

Cerify V7.8.0 or later

FPA V3.4

H.264/AVC, H.265/HEVC, ProRes, JPEG 2000, DNxHD, VC-1, MPEG-4 Part 2, H.263, DV, AS11 (DPP), Uncompressed Video. Please see additional format restrictions below for PSE testing.

Color Model / Chroma Subampling / Bit Depth

YUV 422 Interleaved [UYVY and YUYV]

8-bit RGB data Interleaved [RGB24]

8-bit BGR data interleaved [BGR24]

10-bit YUV 422 packed [UYVY] YUV 420 Planar

YUV 422 Planar

YUV 444 Planer

FPS

23.98 - 60

Resolution

1920x1200 (maximum)

320x224 (minimum)

Aurora V3.6 or later

with FPA option

FPA V3.4

Codec Support

H.264 (AVC/AVC-Intra/XAVC), MPEG-2 (including XDCAM, IMX and

D-10), ProRes, JPEG 2000, DNxHD (VC-3), Cineform (VC-5), VC-1 (and

WMV), DV/DVCPro, Flash VP-6/7, RAW (Huffman, YUV, RGB,

Blackmagic), EXR, DPX, RED, Canopus, and H.265 (HEVC).

Container Support

MXF (All OP, including AMWA defined AS, RDD-9, P2, SxS), Transport

Stream, Elementary Stream, Program Stream/VOB, AVI, WMV/ASF,

QuickTime/MOV, GXF, MP4, 3GPP, LXF, R3D, DPX, DXW, HLS, DASH,

Smooth Streaming, IMF, and DCP (unencrypted).

Interra

Baton V7.4 or later

ITU-R BT.1702 2018 (V1.0)

Codec Support

HEVC/H.265, Dolby Vision HEVC, H.264 (incl. AVC-Intra 100/50, Sony XAVC), MPEG-2 (incl. IMX30/50, XDCAM, D10), DV (25/50/100), VC-1, MJPEG2000, MPEG-4, MPEG-4 SStP, MVC, Frame sequential H.264, DNxHD (VC-3), Apple ProRES, Cineform, PhotoJPEG, MPEG-A, MJPEG-B, RGB, Canopus HQ and HQX, Uncompressed YUV, J2C, DPX, Avid Meridien, Apple Intermediate codec, Compressed JFIF, RED, DNxHR, SonyRAW (F55/F65), Kodak Cineon.

Container Support

MXF (All OP, OP-Atom), MP4, 3GPP, AAF, QuickTime (incl. reference files), MPEG-2 Transport (ATSC, DVB), MPEG-2 Program/DVD VOB, GXF, LXF, ASF, AVI, Matroska, VAST, Encrypted DCP, WebM, P2 Package.

Vidcheck

Vidapps-PSE V1.0 or later

Vidcheck PSE V5.1

Codec Support

MPEG-2, IMX, XDCAM, D10, HDV, DV25, DVCPro50, DVCPro100/HD, AVC/H.264, VC-1, ProRes, DNxHD/VC-3, MJPEG, JPEG2000, HEVC/H.265

Container Support

MPEG-2 TS, MPEG-2 PS, MXF, MP4, MOV, ASF, AVI, LXF, GXF, FLV, F4V, MKV

Vidchecker V8.0 or later

Vidfixer V8.0 or later

Cel-Soft

PSE-Check V2.410 or later

Cel-soft PSE V2.0

Codec Support

Not specified, subject to codecs installed on host system.

Container Support (Some Listed Formats Are Not Included In Standard Installation)

AVI, MOV, IMX30, WMV, MXF extended types, GXF, MPG, M2V, M2T, OMF, VOB, DPX, FLV, CineForm, MXF, QT, MOV, IMX50, MPEG4, H264, VC1

Capture card can be used to test live video.

Reel-Check Solo V1.410 or later

Reel-Check SE V3.410 or later

Venera

Pulsar V4.3 and higher

FPA V3.4

Codec Support

H.265, H.264 (incl. AVC-Intra 50/100 and SONY XAVC), MPEG-2 (incl. D10, XDCAM, HDCAM, IMX-30/50), VC-1, DV

(incl. DVCPro25, DVCPro50, DVCPro100/HD), Avid DNxHD (VC-3), Apple ProRes 422 (HQ, SD, LT, Proxy), ProRes

4444, JPEG-2000, Uncompressed (RGB, YUV)

Container Support

MXF, GXF, LXF, MOV, MP4, 3GPP, MPEG-2 TS, MPEG-2 PS, FLV, WMV, AVI, Matrox AVI, WAV, BWF, AIFF, DPX, JP2,

Smooth Streaming, HLS, MPEG-DASH, IMF, DCP (encrypted and unencrypted)

EditShare

QScan One

Quales V1.1.0

Codec Support

DV,AVCHD,P2 DVCPRO 25,VC-1,AVCHD2,P2 DVCPRO 50,DV AVI,DVCAM,P2 DVCPRO 100 720P,DVD,BLU-RAY,P2 DVCPRO 720P NATIVE,HEVC,XDCAM EX,P2 DVCPRO HD 100 1080i,XAVC,JPEG2000,PANASONIC P2 LongG 6,MPEG-2,XDCAM HD,PANASONIC P2 LongG 12,VC-3 DNxHD,XDCAM IMX,PANASONIC P2 LongG 25,AVC-INTRA 50,AVC-INTRA 100,PANASONIC P2 LongG 50,ADOBE FLASH,RP 2027 AVC-INTRA,DPX,DV,VC-3,MPEG1,H.264,WMV9,MPEG4,H.261,VC1-PRO,MJPEG,HEVC,JPEG200,MPEG2,H.263,DVCPRO HD 100,DNxHD,Apple ProRes

Container Support

mp4,MXF OP1A,ASF File Format,WAV,DV-AVI stream,MXF GENERIC 1B,Mpeg TS,MXF GENERIC 1A,mp4 estandar MDAT,MPEG PS,DVC PRO HD 100,MXF P2 DVCPRO Atom,Quicktime,MXF XDCAM DV OP1A,MXF P2 AVCI Atom,XDCAM MDAT,XDCAM HD OP1A,XDCAM IMX OP1A
Was this article helpful?
2 out of 4 found this helpful