Starship: User Onboarding & Account Management Guide for Fulfillment Partners

What is Starship?  
Starship is Netflix's self-service onboarding and access utility. Every Fulfillment Partner has individual user accounts for their employees that grant access to Netflix applications or productions. Fulfillment Partner user accounts can be created, managed, and disabled through Starship. 
Upon signing in, you will land on your profile page. From here you can view the following:
Application Roles: roles assigned to you and the Netflix applications those roles give you access to
Production Roles: your roles within any Netflix productions
Starship Admin Privileges: Netflix applications and productions for which you have permission to grant access to other users
Notifications: the default and custom Backlot notification emails you are set up to receive
Application Metadata: application-specific options for those you have access to
In Starship, an application role is a collection of capabilities to access various applications, which can be granted to a user. Fulfilment Partner user accounts can be associated with three different types of application roles: 
| | |
| --- | --- |
| Application Role |   |
| Download Sources | Users with this application role are able to receive download links via email for assets which are shared directly by a Netflix Representative.   |
| Fulfillment Partner Operations | This application role provides access to Source Management including the ability to deliver content, download source materials, and change status on source requests (updating material status, service type, EDD, etc.) |
| Master Fulfillment Partner Operations | This application role provides the same level of access as "Fulfillment Partner Operations", plus the ability to generate an API key for Source Management.  |

*Important Change: Those familiar with our previous Account Management UI in Backlot may recall that the Master Fulfillment Partner role served a distinct purpose, which allowed the master account holder to onboard new user accounts to their facility. This capability is no longer tied to the "Master Fulfillment Partner Operations" application role in Starship, and instead, is now encompassed under Starship Admin Privileges for "Source Management".

Now, any user with Starship Admin Privileges for Source Management will be able to onboard, manage, and disable users in their facility. The ability to add new users to your organization in Starship is agnostic of application role. Instead, it is encompassed under Starship Admin Privileges only. 
As of June 1, 2018, any user that previously held the Fulfillment Partner Master Account role in the legacy Account Management UI in Backlot were automatically grandfathered into Starship Admin Privileges for Source Management, so that you could continue to self-manage users in your facility. 


To provide Starship Admin Privileges for an application, the user granting access must also have admin privileges for the application in question.  
Step 1: Identify the onboarded end-user in your facility you wish to grant admin access to: 

Step 2: In the user's profile, navigate to the "Starship Admin Privileges" pane and click on the "add" button adjacent to "Apps with Starship Admin Privileges":

Step 3: Add the appropriate admin privilege & select "SUBMIT":

The selected end-user will now have admin access to the selected application, as highlighted in the messaging below: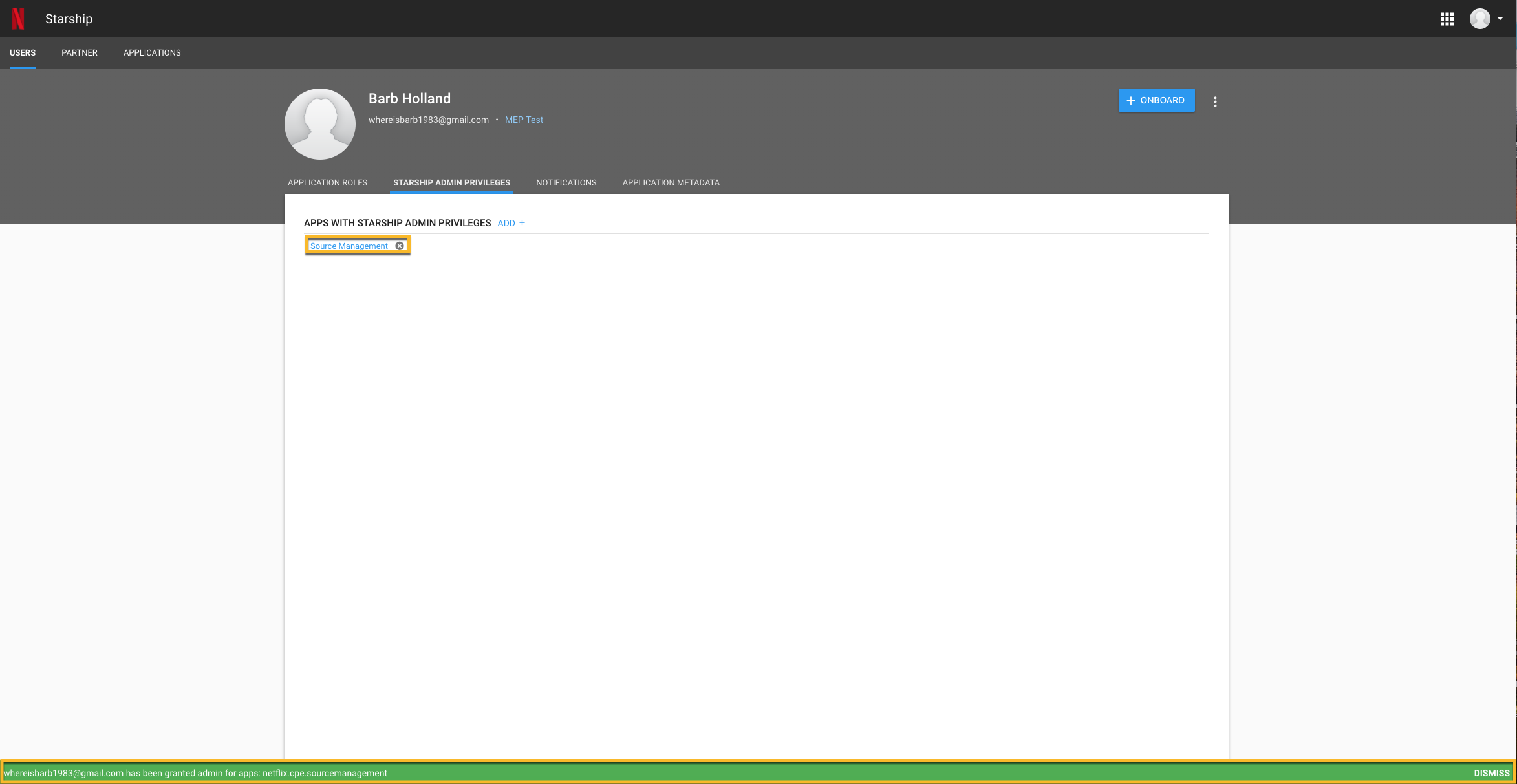 Step 1: User onboarding is an available feature to those with Source Management admin privileges. To onboard new users to your facility, click on the "Create and Onboard" button from the Starship homepage: 

Step 2: User onboarding can be done individually or in bulk: 

To onboard end-users in bulk, follow the specific formatting/prompt as outlined in the "bulk add" pop-up window: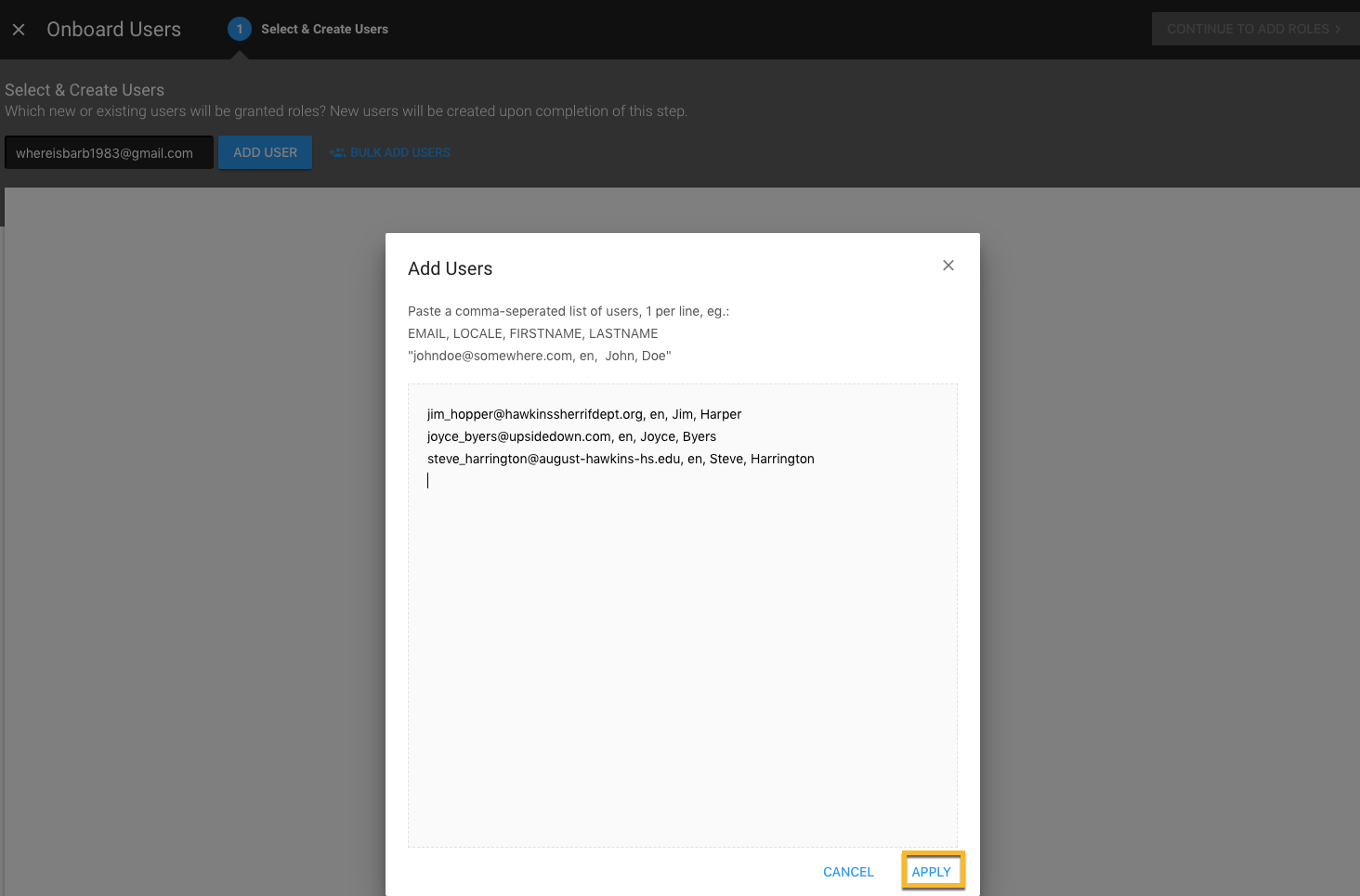 Step 3: Once the desired end-users have been added proceed by selecting "Create Users and Continue" in the upper-right-hand corner: 

Step 4: Select and grant the end-user(s) the appropriate application roles: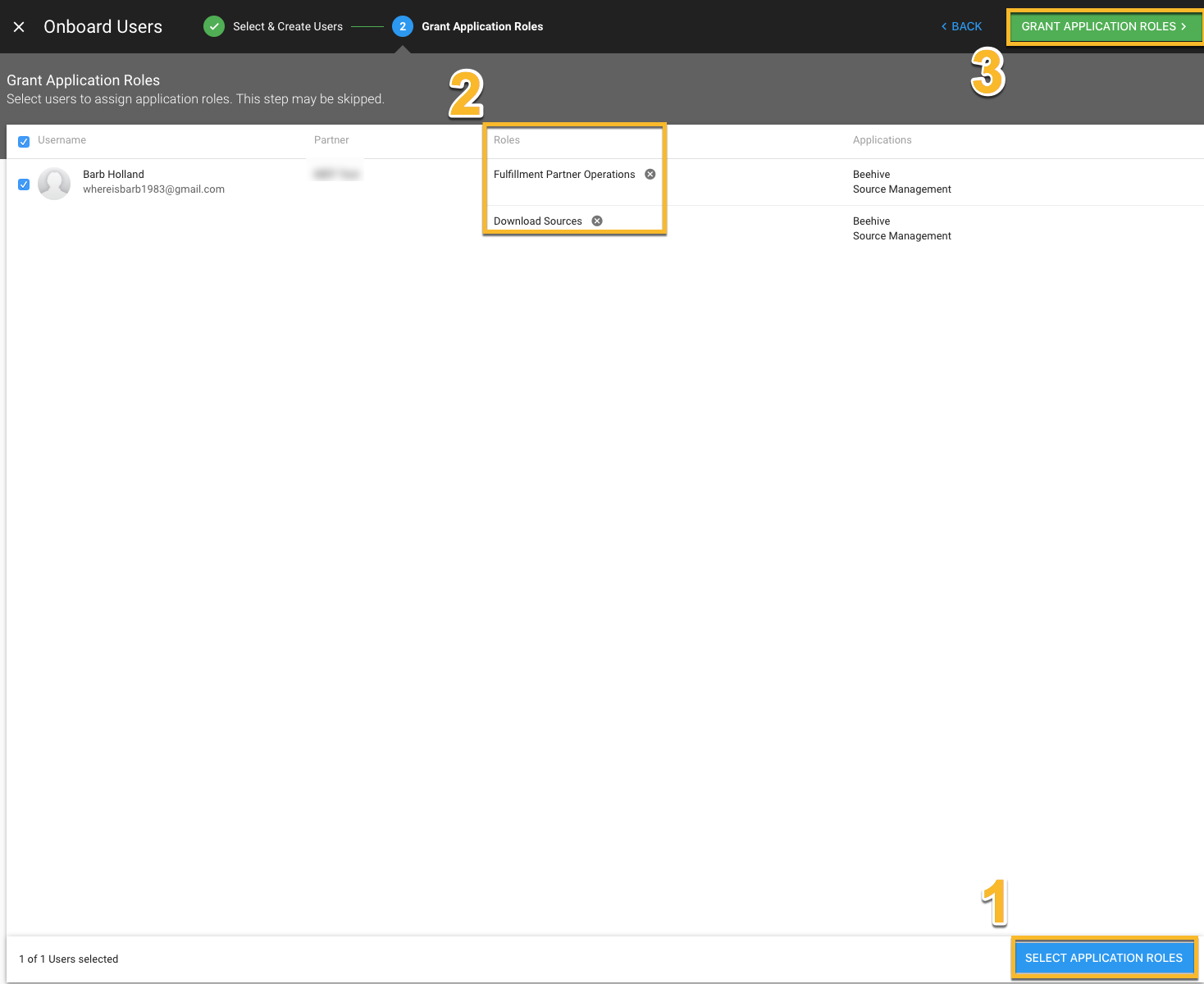 Step 5: After following the remaining onboarding steps, you will be brought to the confirmation page which provides an overview of the selections that were made and the roles which were granted: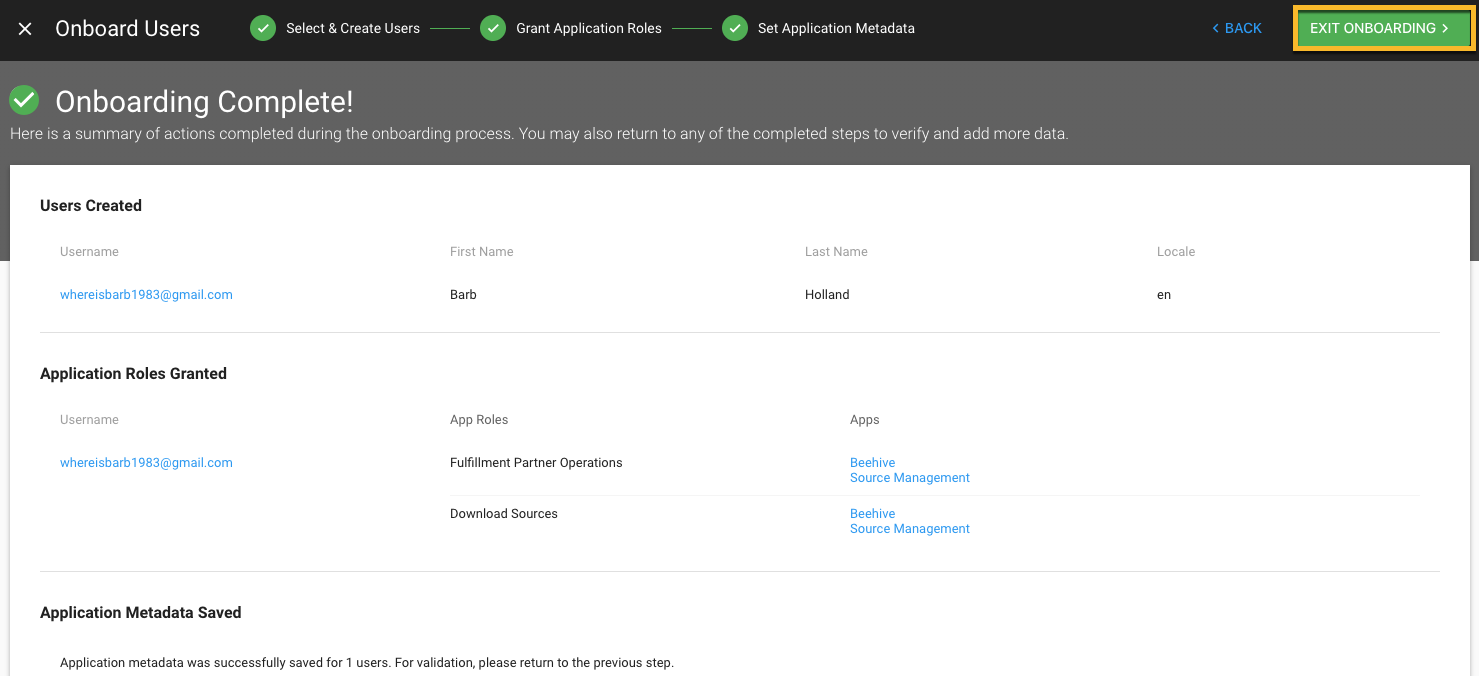 ---
Additional Account Management Resources in Starship: 
• Starship: Notifications User Guide
Was this article helpful?
4 out of 10 found this helpful