The Non-Graded Archival Master (NAM) is a fully texted image sequence of the non-color graded, fully conformed and locked picture, including final VFX, rendered in a single scene-referred color space with no output or display transform applied. The archival resolution will be specific to the project and will be communicated by Netflix. At minimum, the archival resolution will be no less than 3840x2160 (UHD) and must include the final delivery active picture area with no cropping, matting or masking applied over the image. If your primary capture format was less than 3840x2160 (UHD) please reach out to your Post Production Management or Creative Technologies Workflow contacts at Netflix to discuss your best options.
The file format of the Non-Graded Archival Master (NAM) will depend on the transfer function of the scene-referred color space as well as the bit-depth of the source files: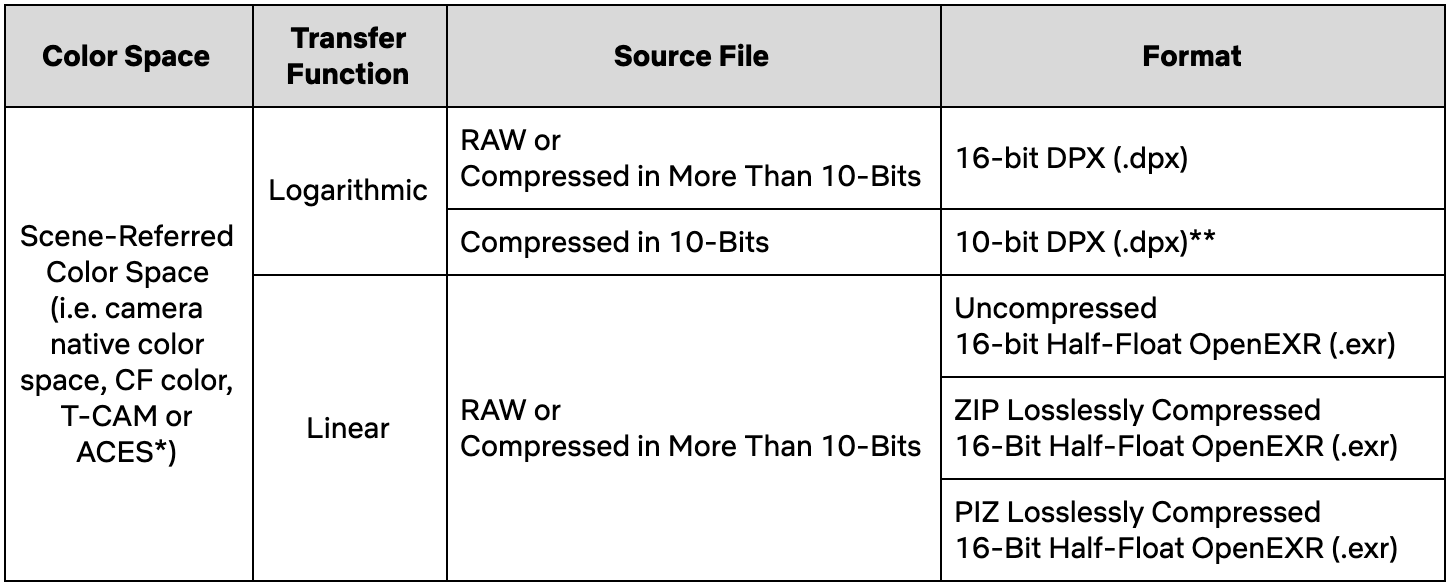 *ACES projects must be Linear / AP0, per SMPTE ST 2065-1. ACEScct encoded files will not be accepted.
**10-bit DPX (.dpx) will be accepted only if 50% or greater of the primary capture footage was 10-bit or lower.
Frame Numbering
Frame numbering must be continuous within each delivered asset and must always be consistent across all picture archival assets.

For feature films working in reels the frame number must be continuous within each reel. The initial frame number for each reel/segment is at the discretion of the finishing partner.
Textless
Textless inserts must be delivered with image properties identical to the corresponding texted asset.

Textless inserts must include a textless background for any shot/sequence of the content that contains on-screen graphic text.

Textless inserts must be provided cut-to-cut (i.e., the textless insert should not begin or end in the middle of a shot, the entire shot should be provided).

Textless main titles or credits do not require a distinct naming convention from other textless inserts.

Textless inserts must be numbered to match the numbering of the corresponding texted shot/sequence.

If the content includes a significant amount of on-screen graphic text throughout, it is acceptable to create full-length textless asset rather than providing segmented frame ranges.

In the context of this document, graphics overlays such as emojis or text balloons should be considered texted elements.
Quicktime Wrapped Non-Graded Archival Master Exceptions
Quicktime wrapped compressed formats may be acceptable under limited circumstances, particularly in Animation workflows where source media is entirely compressed. Please consult Netflix to determine if QuickTime delivery is acceptable for your project.
Minimum acceptable compressed formats:
HDR: 12-bit, DNxHR 444 or ProRes 4444 XQ
SDR: 10-bit, DNxHR 444, or ProRes 444
Additional guidelines and best practices can be found at 'Picture Archival Guidelines & Best Practices'.
Additional details on folder structure and file naming for delivery can be found at 'Picture Archival Assets: Folder Structure and File Naming Convention'.
Change Log
08-06-2020
Updated language around Quicktime Wrapped Non-Graded Archival Master Exceptions to specify that these are the minimum requirements and also to specify different codecs for SDR and HDR.
Was this article helpful?
1 out of 2 found this helpful