Dialogue List Scope Of Work
Scope of Work
For fulfillment of dialogue list, partners are required to use Netflix's proprietary script authoring tool to create frame-accurate timing and accurate transcription of dialogue to the video provided.

Script partners will be allocated work via Grand Bazaar and Source Management, then asked to assign their resources in Netflix's dubbing portal, the central location to manage the authoring process.

Fulfillment will include one delivery to a preliminary (or locked) cut picture and update to the final picture. Any additional versioning is subject to conform rate and will be at the Netflix representative's discretion.

In the scripting authoring tool, partners will work against the most recent Production Locked Proxy or Final Proxy. Additional materials like Shooting Scripts may be available but are not required materials for fulfillment.

Automatic Speech Recognition technology is used to generate a base transcription of the English dialogue into script events; which include accurate timecode in and outs, along with generic speaker identity (diarisation).

The script event boxes contain timecode, character, event number, transcription, and ability to tag annotations. From these auto-transcribed events, the script author has the freedom to use the auto transcribed dialogue or clear the text to begin origination from scratch.

The transcriber will also recognize that the timecode accuracy is sufficient, but may

require small tweaks. We ask that in/out timecode's are within a 3 frame tolerance of the lip flap or spoken word start and end time.

When partners are working on episodic content, multiple transcribers can be utilized for individual episode transcription (for example, partners can select to assign 2-3 episodes to individual transcribers). For consistency, we recommend using one person completing the proofing pass for all episodes of that series. If that deems not feasible (due to tight deadlines), please engage a few proofreaders. All proofreaders should have access to projects KNP.

When partners are working on episodic content, it is encouraged that multiple transcribers are utilized for individual episode transcription with only one person completing the proofing pass for all episodes of that series

Once authoring has completed, the author will submit in the tool, which will auto-update the source management request - Final Script

In addition to DL creation, the DL partner is responsible for the below KNP entries:

Key source terms and phrases in the original language

Adding add'l context in the "Notes" section for source terms

Following the KNP Source Term Creation Guidelines

KNP source terms are due within the runtime-based SLA

FYI - the KNP is accessible from the Authoring application via the reference materials tab
Service Level Agreement (SLA)
To be considered on-time, the partner must deliver the initial transcription within the agreed SLA of receipt of video. Requests for delivery in less than the specific SLAs according to runtime will be subject to rush fee.

Specific SLAs are as follows with runtimes rounding up to next 30-minute interval:

30 min TRT - 4 business days

60 min TRT - 5 business days

90 min TRT - 6 business days

120 min TRT - 7 business days

Episodic content should follow standard SLA guidelines unless batched delivery occurs, at which point each subsequent episode delivery SLA will be staggered 48 hours after the initial specific SLA.

Versioning and conforms should be delivered within 72 hours.

Failure to meet requirements and style guide specifications will result in redelivery requests at partner cost that will impact metrics.
Dialogue List Style Guide
Authoring in the tool consists of transcription editorial and notes tagging. Each dialogue event is a contained unit and organized linearly in the dialogue editor section. Each event will require some level of editorial: In-Timecode, Out-Timecode, Source, Dialogue transcription. Notes are annotations which are used to capture important details to guide the dub / subtitling process. When creating a note, the user is prompted to select the type of note then add any additional text to the note. Notes have parent and child attributes as well as free form text.

When referring to identity/culture/race, Black should be capitalized (just as other ethnic identifiers are already capitalized, i.e. Native American, Asian American, Latino, etc). Do not capitalize white as this carries a different meaning.

Where applicable, the inclusion of pronouns in annotations should be included as this affects translations and voice casting. Netflix will provide script partners with these details on such cases.

Types of Dialogue Editorial

Timecode should be frame-accurate to Netflix burn-in timecode.
Source: Speaker names should be in all caps and include consistent, correct spellings for speakers (according to source material such as shooting script, credits or on-screen text). Unless multiple characters are saying the same dialogue at the same time, only include one speaker/source per event (exception: if dual speakers are included in the burned-in forced subtitle). For multiple people speaking in unison, include names separated by a forward slash in source event. Examples:
Dialogue should contain a complete accurate transcription of all dialogue and stutters/syllables as well as descriptions of mouth sounds in brackets (e.g.: [sighs], [laughs], [screaming], etc) in the dialogue event, before dialogue text begins. Include any descriptors that do not apply to specific dialogue or describe mouth sounds [e.g.: (long pause), (fades out to shot change), etc] in parentheses. Walla should also be indicated wherever prominent.

Best Practice: Utilize finalize dialogue stems to transcribe difficult to hear dialogue and individual lines within larger walla beds. Reach out to Netflix to see if available.
Types of Notes and Tags

Context annotations: please include annotations for words/phrases in the annotation notes event box

Character

On-Screen Text - Burned in subs should contain transcriptions of production-approved burned-in subtitles (for foreign dialogue, hard-to-hear dialogue, or sign language) as they appear in that cut of picture. Please include the character name in the source box in the authoring tool. Please include transcription of On-screen text in the main dialogue event box.
Content/timing of subtitles should match most recent cut and/or document provided by production. Line and subtitle breaks should be honored as they appear in documents.

Please split continuous dialogue up into rows according to corresponding subtitles if applicable. If timing of dialogue/subs are not the same, time according to dialogue.

If burned-in subtitles contain content translating foreign dialogue, the dialogue must contain a description (e.g. [speaking spanish]) or transcription of the foreign dialogue in the same row.

For hard-to-hear dialogue with burned-in subtitles, the dialogue event should still contain a transcription that will often match the content in the burned-in subtitle column.

For sign language with burned-in subtitles, the dialogue event should be left blank as no dialogue is being spoken.
Note: Final picture will often be clean of subtitles, but this content should stay in the final Dialogue List and be timed to match the final version of picture as it would occur had it been left in.
On-Screen Text - other types should include all prominent, pertinent on-screen text in the annotations editor. Please include transcription of On-screen text in the main dialogue event box. Please be accurate with your description of the event via the dropdown options and annotation notes section for further context (if needed). Please do not include tagging for production notes such as VFX, ADR, or Reshoot notes, as these will not be treated for localization. Please use the verbiage NONE in the source box in the authoring tool - this allows for the tag type to direct the text to the proper column in the xls export.
On-Screen Text - Graphics & Inserts

On-Screen Text - Principal Photography

On-Screen Text - Episodic Title

On-Screen Text - Netflix Credits

On-Screen Text - Main Title

Place transcribed & translated in the main dialogue box

Leave annotation notes section for annotations
Foreign dialogue treatment:

Please transcribe and italicize all words and short phrases foreign to the original version language in the Dialogue column

For longer passages that cannot be transcribed without the assistance of a native speaker, indicate the language being spoken in brackets (e.g.: [speaks German]).

Please use the annotation tags and the dropdown option "Foreign Dialog" to also indicate. We ask that the brackets and these tags be applied.

If dialogue is intended to be understood or subtitled, translations will be provided either as burned-in subs in a locked cut or in a separate document from Netflix/production. Indicate language of speech in dialogue events (e.g.: [speaks German] and transcribe accompanying burned-in subtitles.

If any mistranslations are noted in burned-in subtitles, please flag to Netflix before updating in the dialogue list.

For other general text style requirements not specified above, please refer to the English SDH Style Guide and apply the treatment to the Dialogue list.
Songs & Ditties should contain transcriptions of vocals, whether licensed, un-licensed, original IP, or ditties.
Archival Footage - TV news footage, court footage, previously released movie/TV content, etc.; i.e., anything filmed outside of the film/series itself should be transcribed and tagged as archival footage.
Existing IP - Intellectual Property refers to creations of the mind. That includes everything from works of art to inventions, computer programs, trademarks, and other commercial signs. Please identify any instance of Intellectual Property as accurately as possible (i.e. book title and author, show title, song title). If unable to identify, please reach out to your Netflix contact.
Inaudible - any instance of inaudible dialogue should be clearly flagged with corresponding time-code in and time-code out.
Main Title in Dialogue - any instance of Main Title usage in dialogue should be tagged. Please refer to the KNP for the official translation.
Episode Title in Dialogue - any instance of Episode Title usage in dialogue should be tagged. Please refer to the KNP for the official translation.
Sensitive Context - please flag the events containing words or phrases related to gender or gender identity, race/ethnicity, LGBTQIA+, religion, cultural sensitivities, profanity, or other categories that could potentially be perceived as offensive or insensitive in the given context. Please provide any relevant information on the subject in the "Annotations" section.
Export

The tool is set up to output a format that best suits our partners and internal stakeholders. This format resembles Netflix's excel template before the tool was built. Therefore, the script partner should not have to worry about change logs, project info, or format specific to previous expectations.
Off-screen dialogue treatment:

When a character speaks off-screen (still in-scene but not on-camera), please indicate by selecting (OFF) in the dialogue edit box.

If the character's dialogue section alternates between on- and off-screen please indicate the order that it occurs, e.g.: (OFF/ON) for a character's dialogue that starts off-screen and continues on-screen, (ON/OFF) for starting on-screen and going off-screen. No need to include more than two cues. The dialogue event box has a drop down option for both.

If a character is providing voice-over (not in-scene at all), please start a new time-coded dialogue entry for when voice-over begins and include (VO) at the end of the character's name in the event.
Reference Materials
Click on the reference material icon to access to the shooting script and KNP tool .

By clicking 'Import Characters' in the pop-up window, the tool will import characters in the shooting script. Imported characters will appear under the character tab.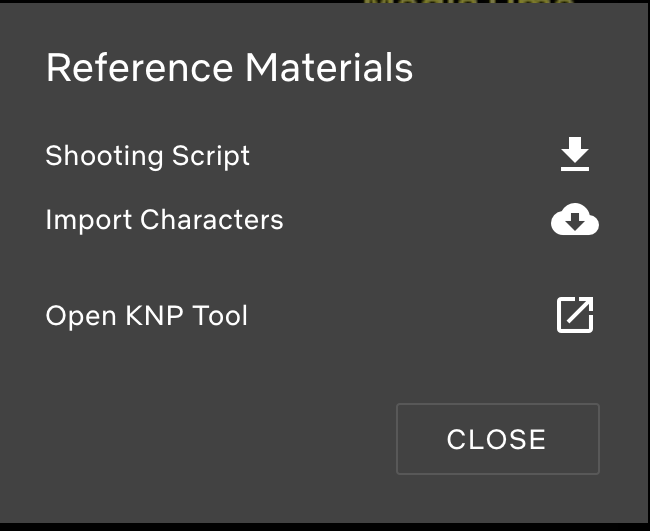 Change List
This list will include changes/updates from the previous delivery of the Dialogue List.

Granular details about updated dialogue/on-screen text and summaries of global or broad changes (e.g.: eight-second offset at beginning of program, scene added at 01:22:30, etc) should be noted on the Annotations column.

Please refrain from using formatting (bold, underline or strikethrough) to indicate changes, as these might be lost when importing documents to different tools.
Operations Run Book
High Level Overview
The Script Authoring tool is a Netflix application to transcribe, translate, and tag timecode accurate dialogue events leveraging speech-to-text technology, outputting a robust dialog list for content localization (dubs & subs), supplementals, and marketing needs. Automatic speech recognition (ASR) prelays transcription, then pulls metadata to auto populate events, thus providing a rich event filled with character, timecode, annotation, and speech detectors. Netflix partner project managers are asked to assign resources, manage communication with Netflix representatives, and meet our SLAs. Netflix partners and their resources are asked to edit, populate, and proof transcription, translation, and tagging through a full watchdown.
Dialogue List workflow [High Level]
Netflix to assign title via Grand Bazaar

Netflix to assign Final Script source requests

NP3 enters Dub Portal for title management and resource assignment

NP3 Transcription resource to enter Task Dashboard, complete task

NP3 Proofer (QC) resource to enter Task Dashboard, complete task

NP3 project manager to oversee completion and communication with Netflix

Conformance: Automatic conform request when Final Proxy arrives in source management.

Dubbing Operations will manually request conformance for any other locked cut or final cut - ie Locked Cut version 5, Final Proxy version 2
DUB PORTAL WORKFLOW
Overview
The Dub Portal tool is a dynamic dashboard providing control and operational visibility over the end-to-end dubbing process. Our vision is to provide accurate information, which is organized in a digestible manner, generating actionable tasks for all users. This is the project management application for both Netflix and our trusted partners for communication, title management, and linkage with all other tools in our ecosystem.
Dubbing or audio description partners will be assigned work via Grand Bazaar and Source Management, which will prompt the assigned title to the dub portal dashboard.

From the Dub Portal dashboard, all assigned projects will be displayed with status' and visibility on dates and source assets, such as locked cuts and source language.

For script authoring tasks, the NP3 dub project manager will assign work via the Dub Portal.
Dub Portal access is granted through Starship to NP3 project managers.Through Starship, NP3 project managers will be able to onboard transcribers, proofers, and other project managers.
Dub Portal starship role

Application: Dub Portal

Role: Dub Portal User

Allows partner to view status' across dubbing projects

Allows you to onboard other project managers to this role
Script Authoring tool starship role

Project Manager starship role

Application: Dub Script

Role: Vendor

Allows full admin rights over titles assigned to your studio

Transcriber & Proofer starship roles

Application: Dub Script

Role: Dialog List Author

Role: Dialog List Proofreader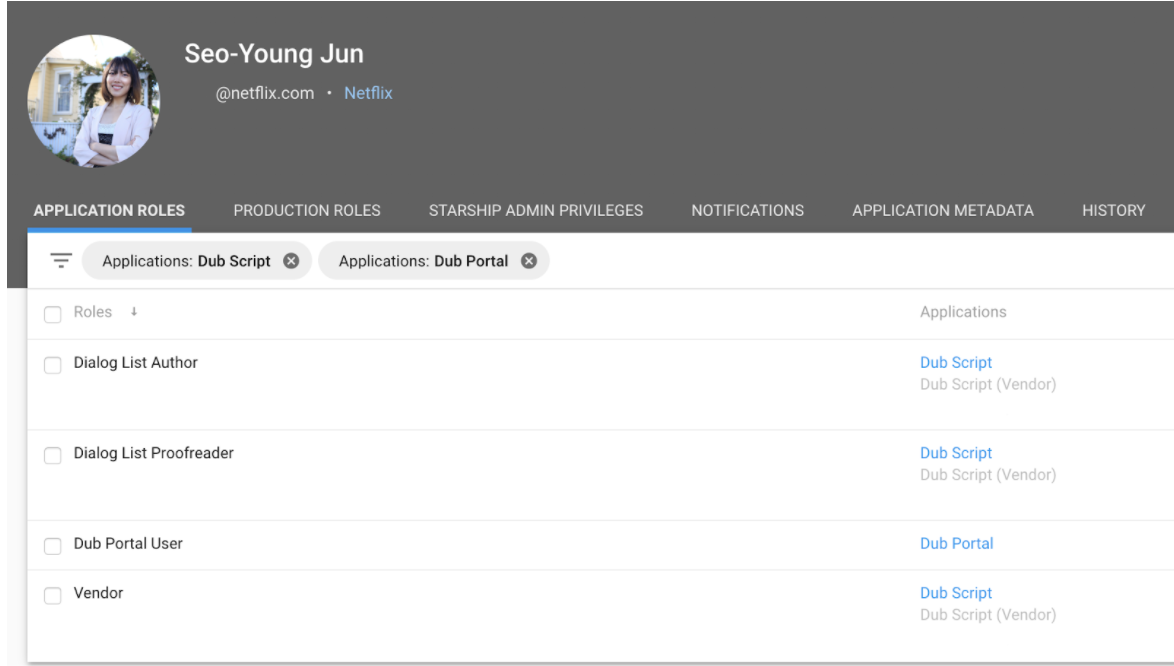 In the dashboard view, you will see your assigned titles and four columns with status'.

Title, Movie ID, Format, Episode count, Thumbnail

Dropdown to display Active, All, and Archived projects

ORIG LANG - source language of title, identified by language code

Launch date

Picture Cuts availability

Dialogue List progress - defined by percentage complete and number of lists needed

Settings gear icon - email digest options, UX themes (light, dark)

Project settings - ability to archive, save to 'my projects', and open in source management
Project Level
Once you click on the thumbnail or title name, you will enter the project.

Status of dialogue list assignment; Assigned, Partially Assigned, Unassigned

Locked or Final Cut status: Top cut will display new, bottom cut is current / existing dialogue list

Overall status of episode / standalone; Ready, In Progress, Completed

View details of resources and project, plus ability to assign transcriber and proofer
Assignment
NP3 Project managers will assign their personnel, whether in-house or freelance for transcription and/or proofing tasks.

In this window, you can start typing your resources email address and it will auto-populate for reference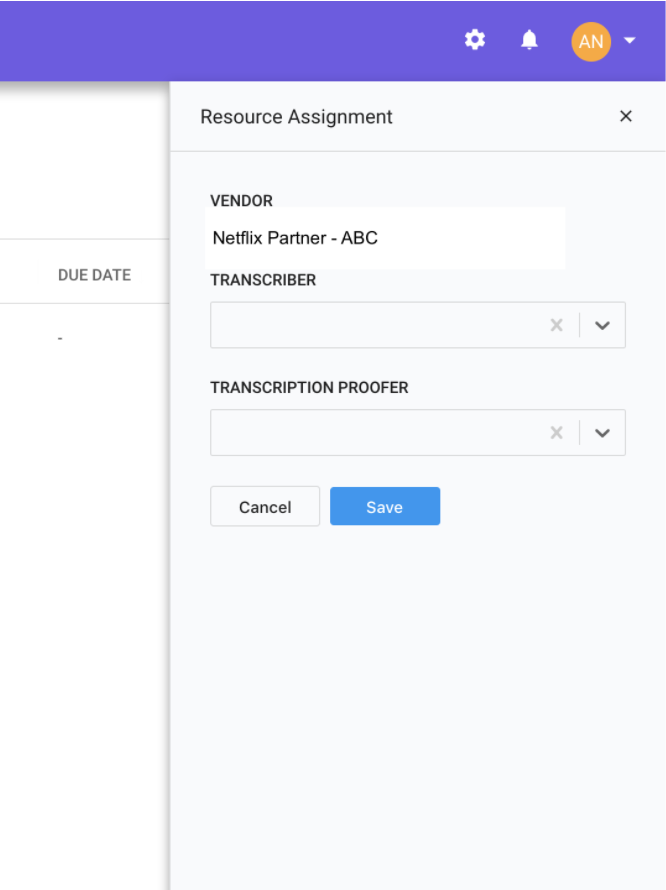 Once internal personnel are assigned to a project, they will receive an email notification with a link to take them to their project dashboard.
Change Log (07-01-2021)

Added KNP Source Term creation responsibilities to overall SOW

Added descriptions for the below annotations/tags in Authoring tool:

Existing IP

Inaudible

Main Title in Dialogue

Episode Title in Dialogue

Sensitive Context
Change log (02-19-2021)
Capitalizing ethnic identifiers and pronouns in annotations has been added under Dialogue List Style Guide
Change log (10-13-2020)
Multiple transcribers guideline has been added under the Scope of Work

Batch delivery staggering logic has been added under SLA
Change log (12-15-2020)
Service Level Agreement- Conformance
Was this article helpful?
5 out of 8 found this helpful