The VFX Media Review pipeline allows vendors or production users to submit VFX media to the studio for review.  Submissions are submitted through the VFX Media Review pipeline in the Mailbox tab.  This pipeline creates a playlist in Shotgrid for the Studio to review.  If you have questions regarding the Shotgrid review and notes workflow, please reach out to your VFX contact.  
Before you begin please note that to upload/download files in Content Hub, you'll need the latest Aspera Connect plugin installed and as of this time Content Hub supports Windows & Mac operating systems only.
High Level Workflow Walkthrough
A VFX facility or Production uploads a folder containing a CSV and media to a Content Hub workspace. Please note, the order of media listed in the CSV is the order the media will playback in Shotgrid.

A Mailbox Submission is created and named following our naming best practices. 

The CSV is selected and media in the Content Hub Workspace is then reviewed. 

The submission is confirmed and submitted to the Studio. 

The submission will go through inspection, encoding, and will output a playlist in Shotgrid for review. 
Uploading to Workspace
In Workspaces for your project select the blue Upload button. A pop-up will appear where you can drag and drop your folder, or select your folder to upload.  Please make sure the CSV and files are nested in a parent folder.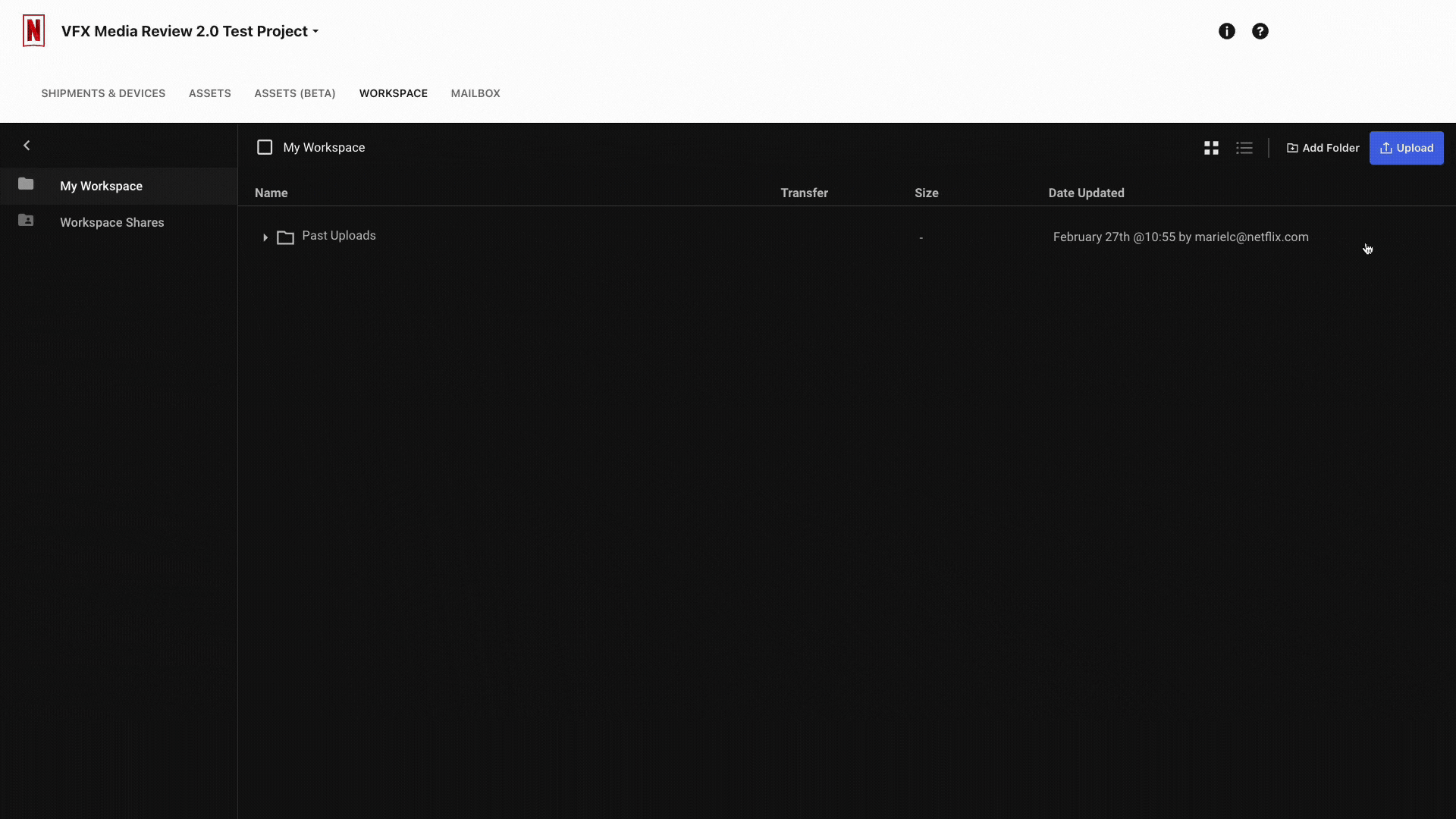 Figure A
This will kick off the upload via Aspera.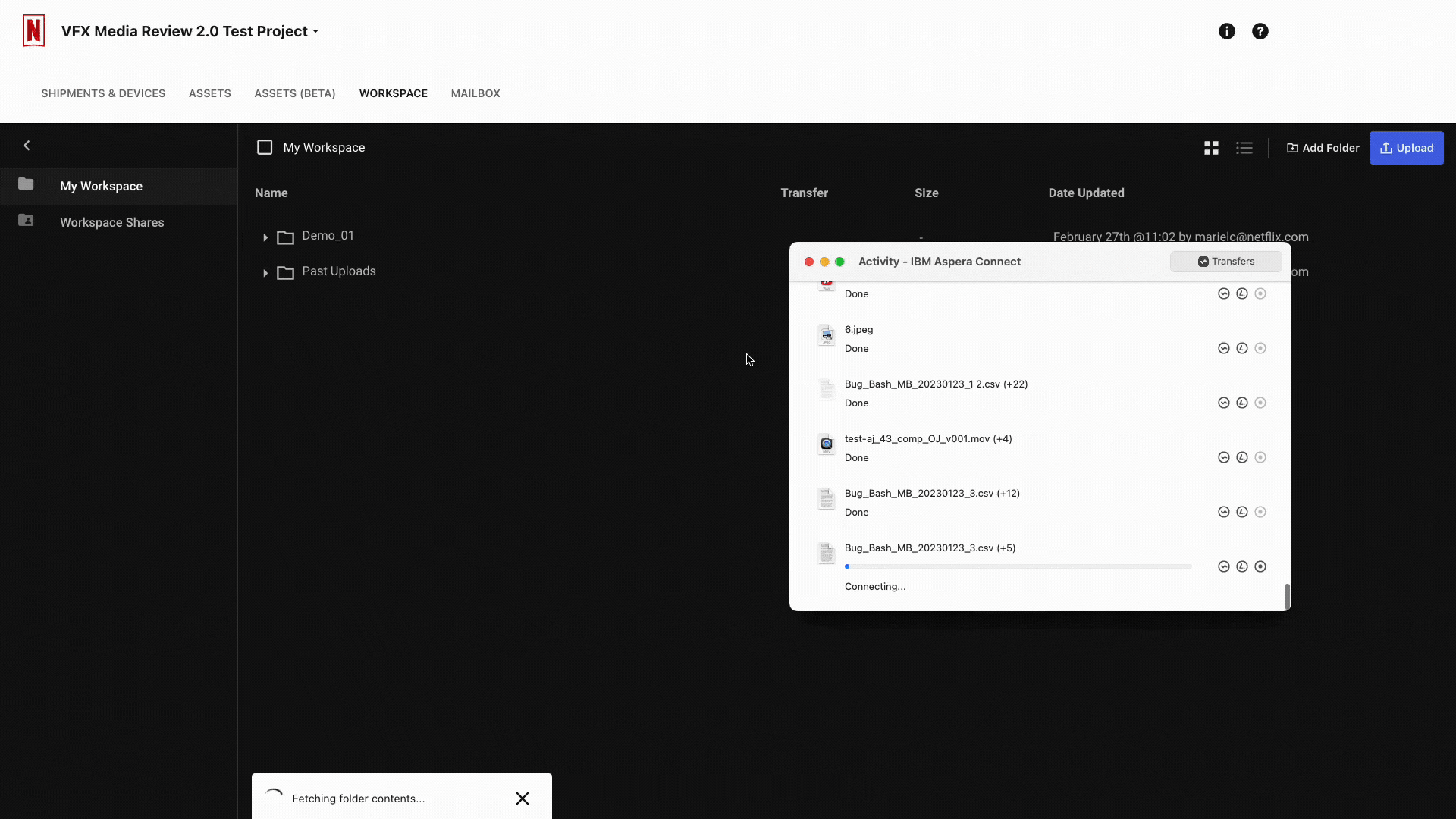 Figure B
After the files have completed uploading, you can check to ensure that all files were uploaded as intended. To ensure that the upload has completed, hover over the folder and select the I Icon. Do not delete any files or folder until you receive a confirmation email that the Studio received your submission.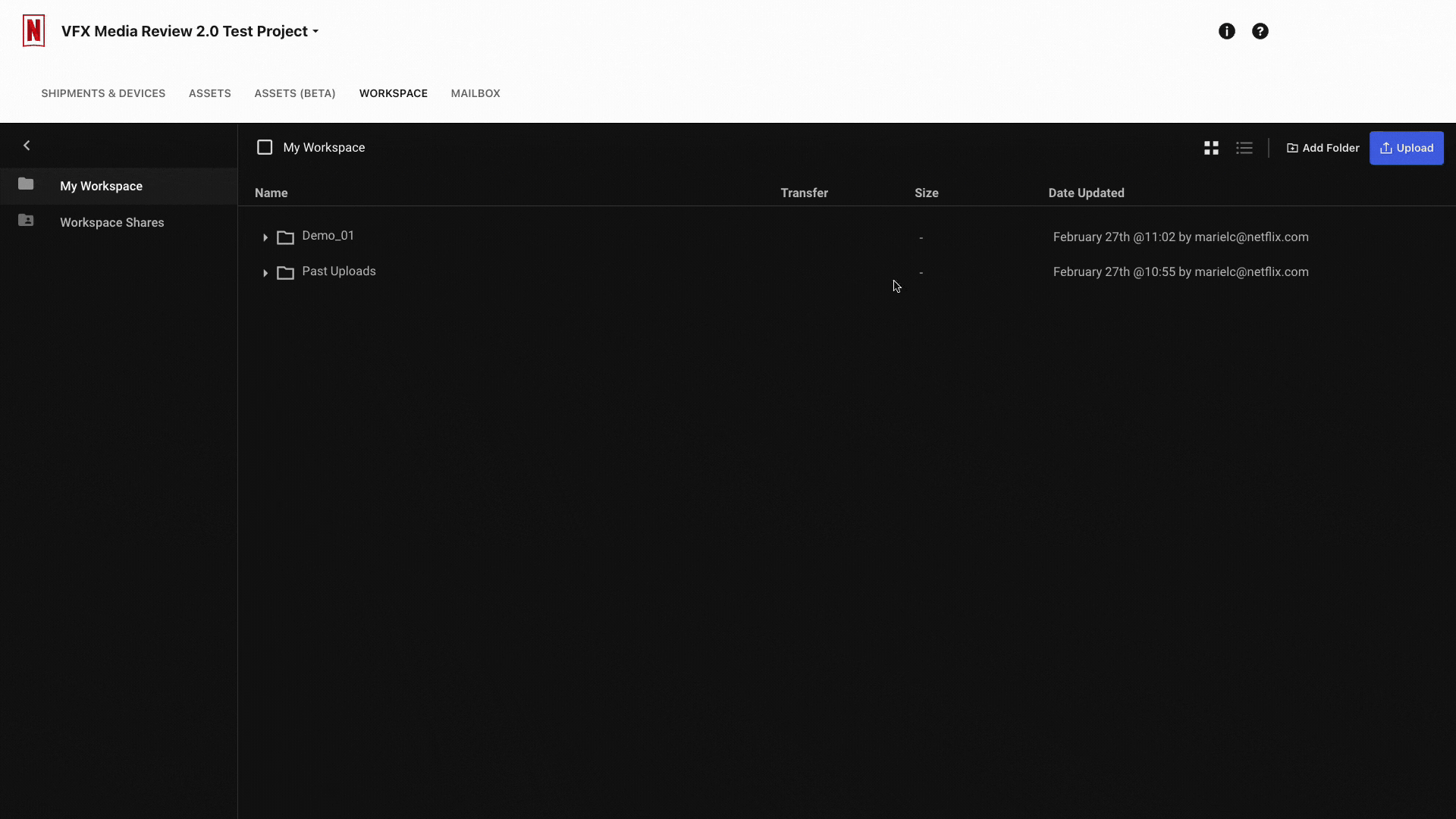 Figure C
Once your CSV and files have uploaded to workspace successfully, based on your Content Hub notification settings, you may receive an email notification. This is a notification only for the upload portion of this workflow. Please note, your CSV and files must be uploaded before you can create a submission in Mailbox. You still need to move through the next steps to submit to the Studio. If you wish to disable WORKSPACE notifications, please see our Content Hub notification guide. For any other email questions, please reach out to your Netflix VFX contact.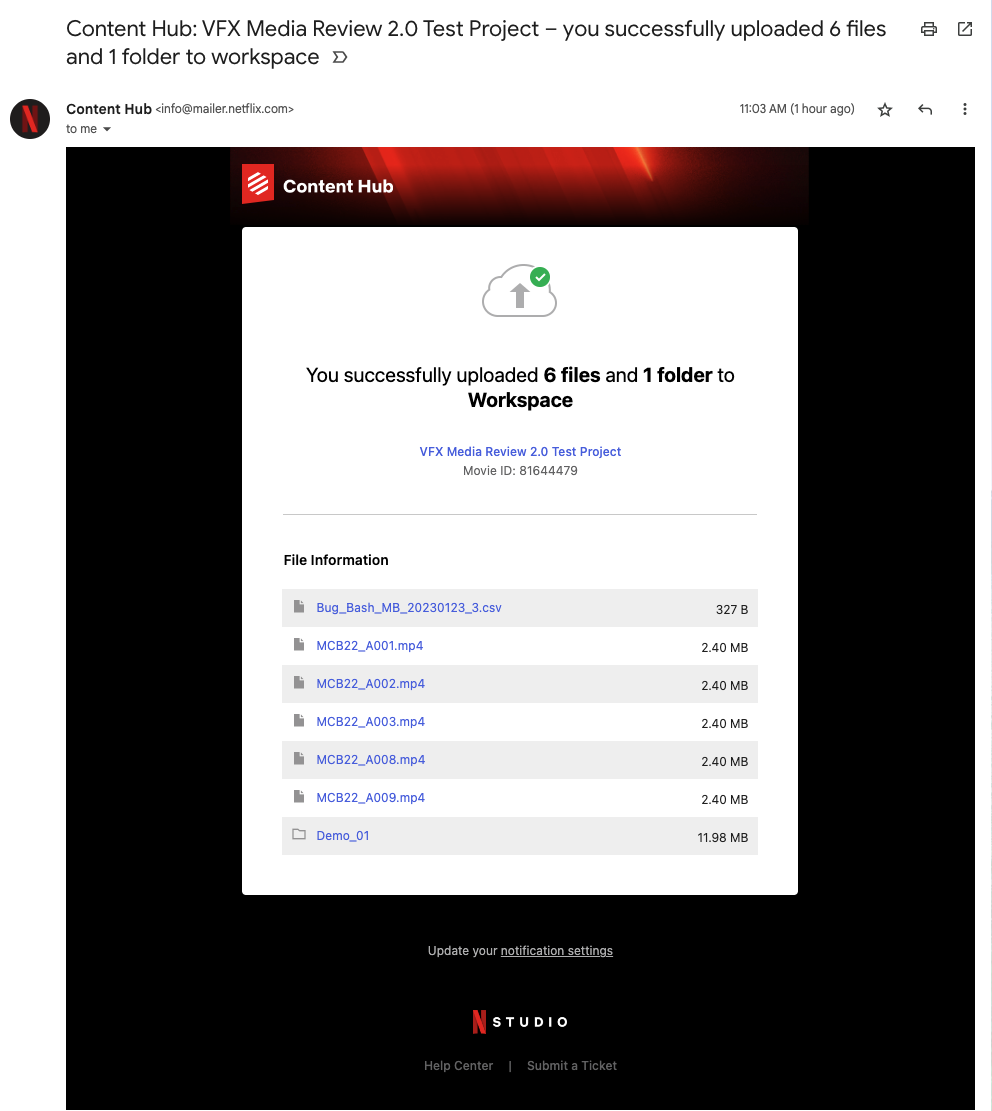 Figure D
VFX Media Review Walkthrough
Select the Mailbox tab in your Content Hub Project.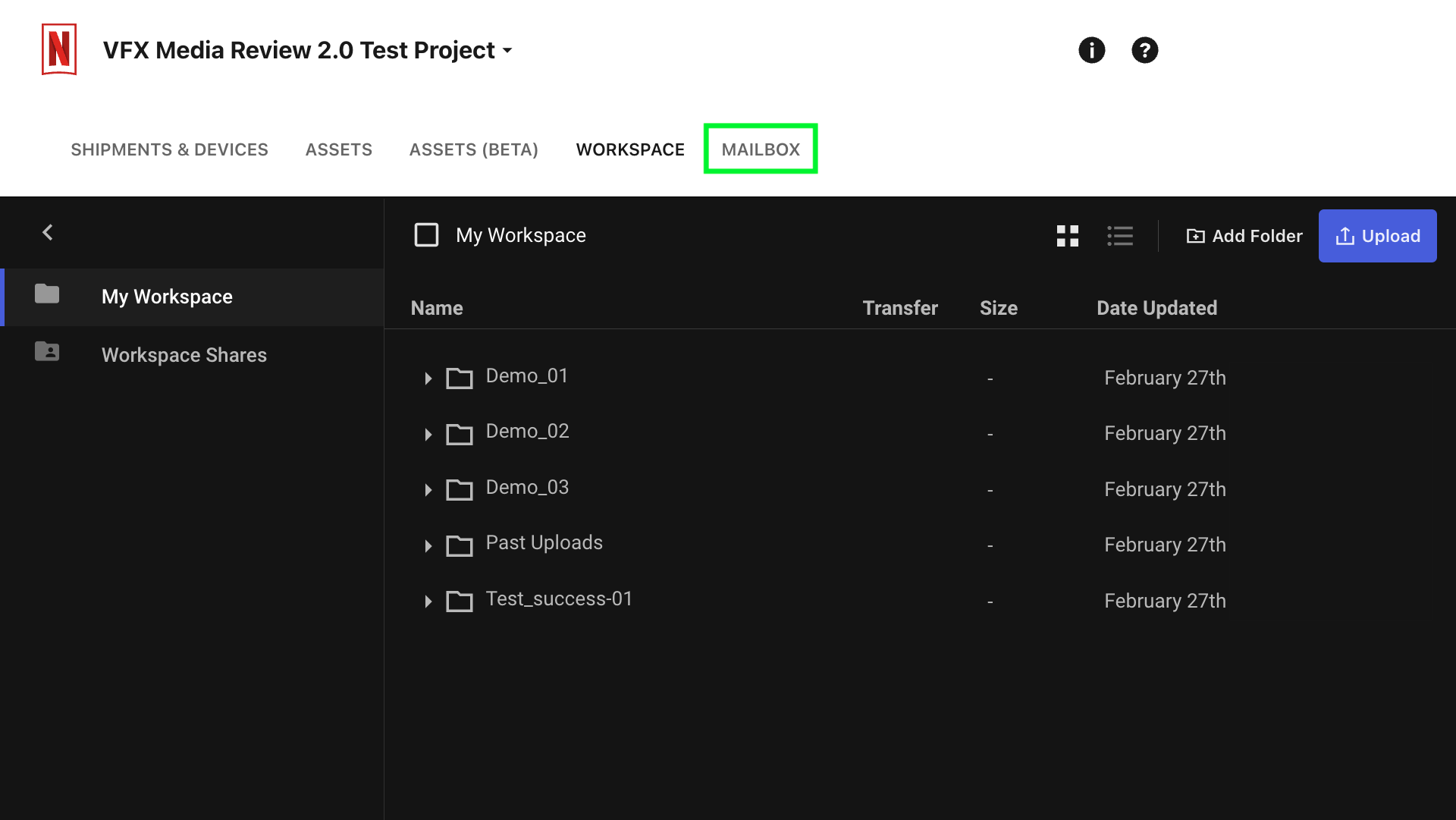 Figure E
Select the New Submission button in the upper left corner. This will automatically launch a new submission window where you will select VFX Media Review from the drop down and name your submission to meet our naming spec.  Once the configuration is done select Create.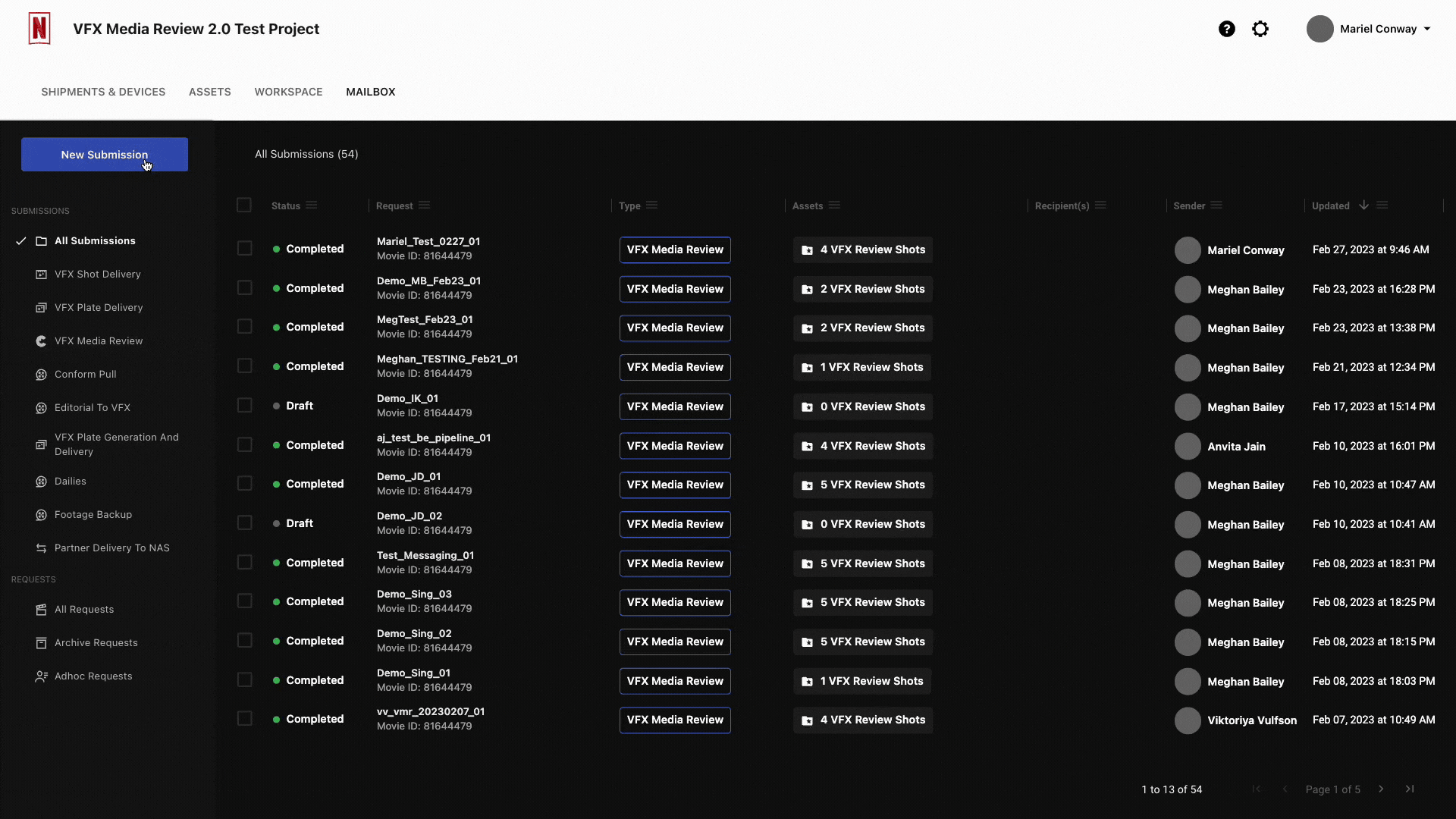 Figure F
From the new screen select Import Asset List.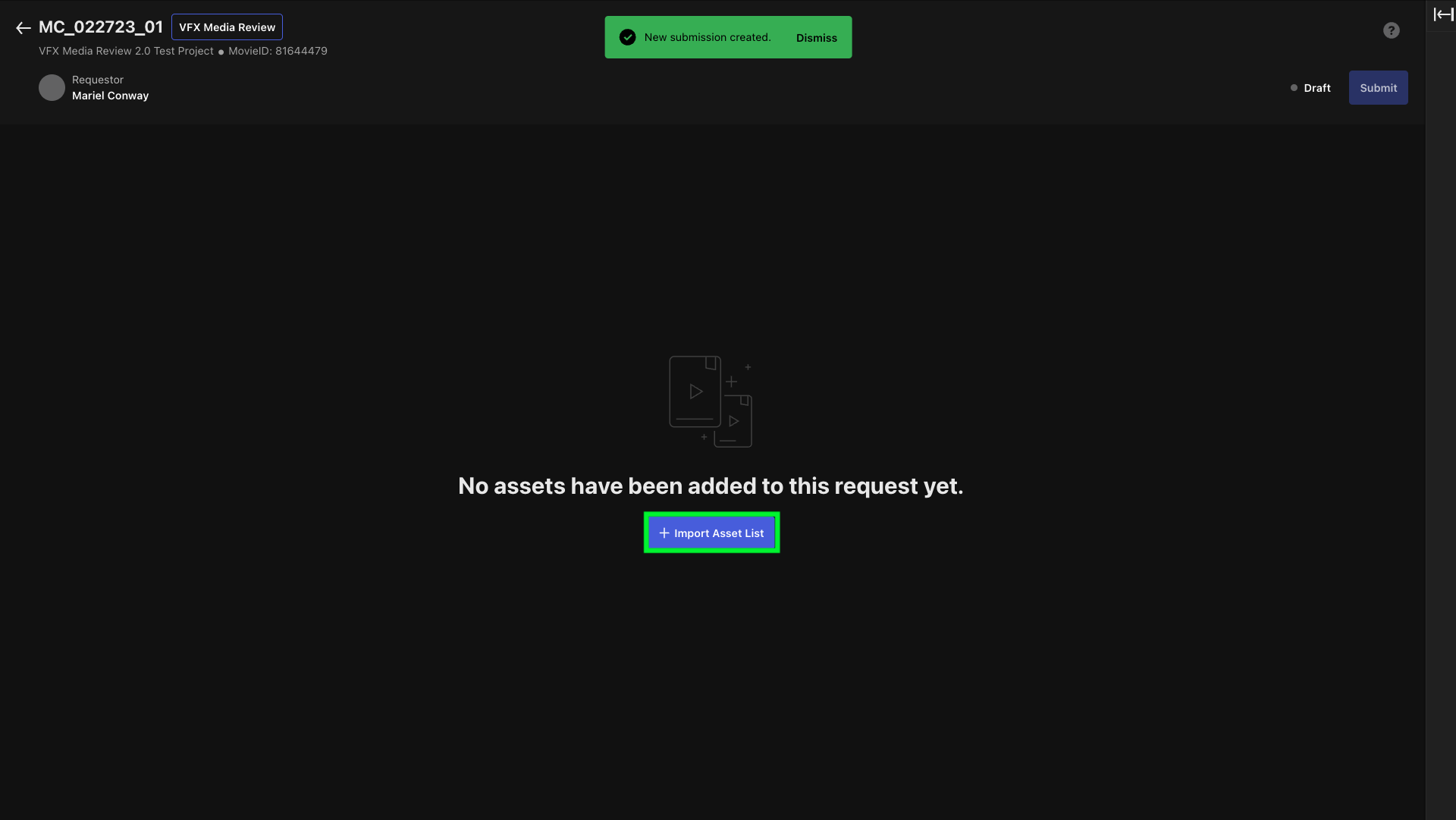 Figure G
Navigate to your submission folder and then select your CSV by selecting the Select button to the right of your CSV. Then select Next.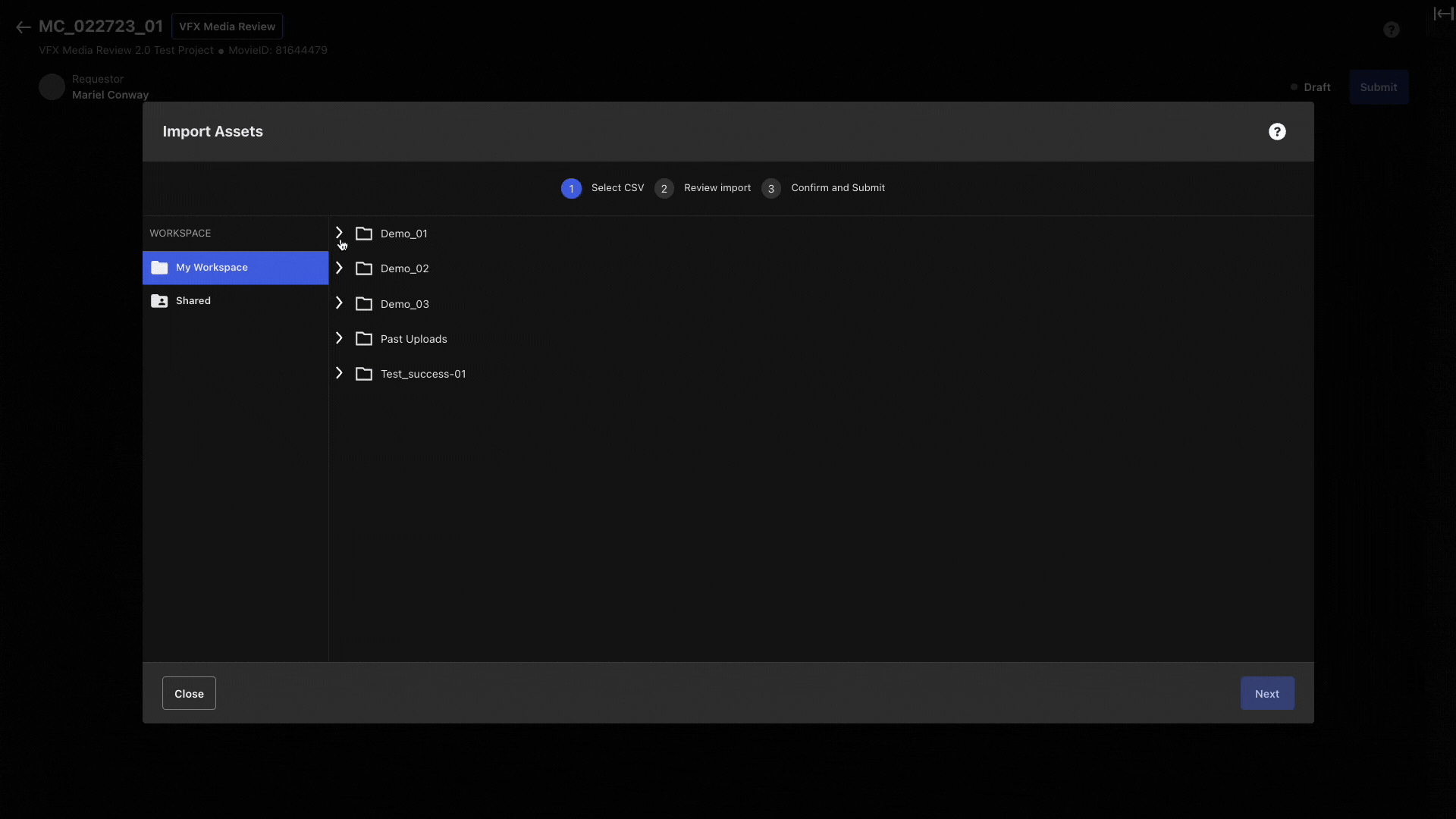 Figure H
Your CSV will process and your files will be imported. Last, review your imported files and then select Confirm and Submit.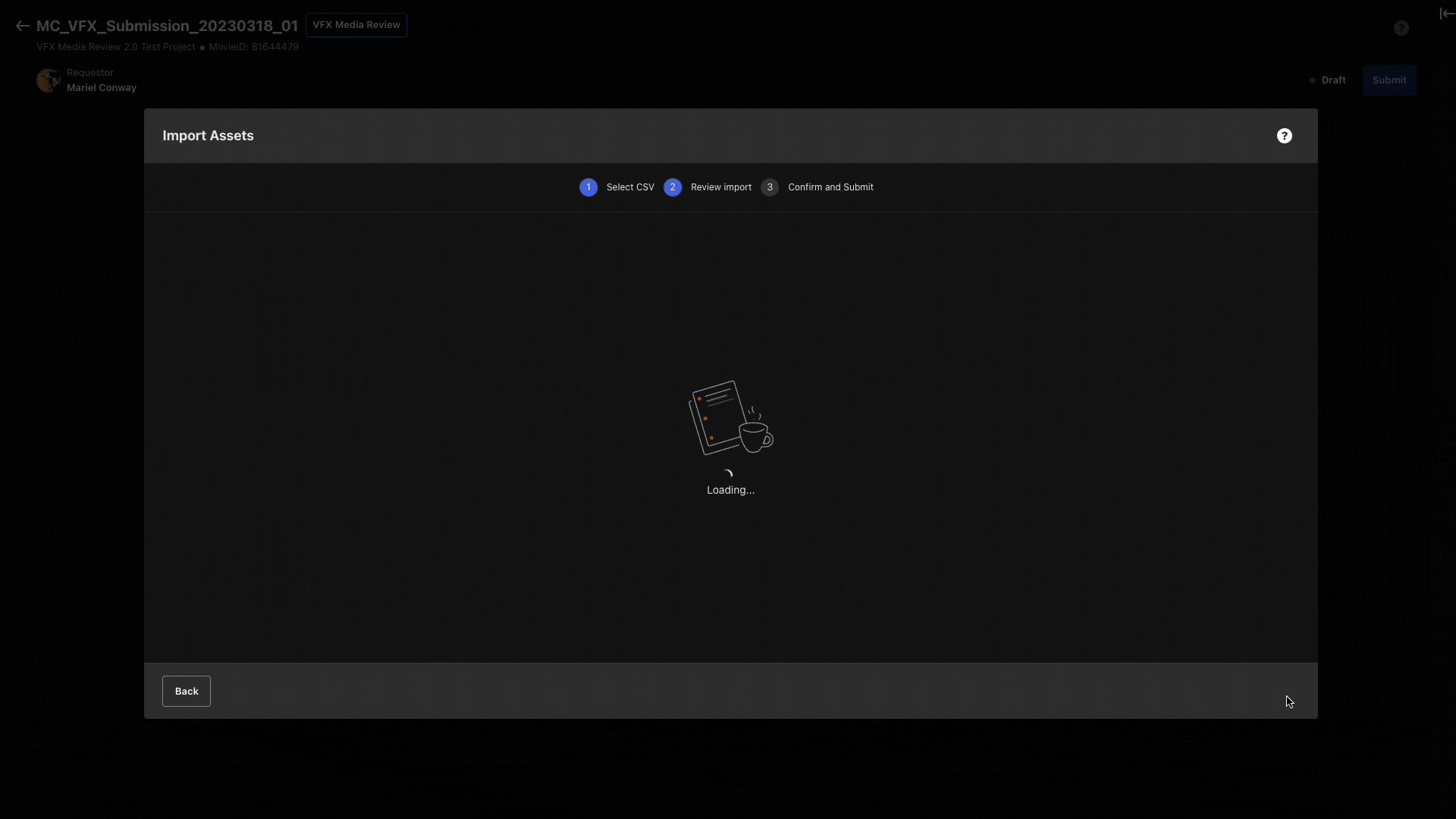 Figure I
Your shots are now submitted and a Shotgrid playlist will be created. Please do not delete or remove files or folders in workspace until you receive the successful email notification.  
Additionally you will receive an email when your submission is ready to view. If you have any questions about email notifications, please reach out to your VFX contact.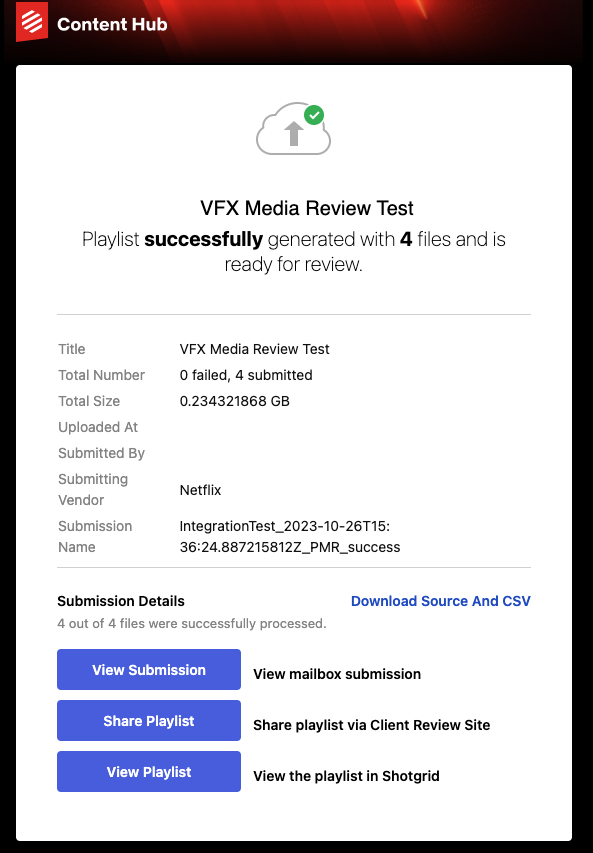 Figure J
Checking The Status of your Submissions/Files
You can check the status of each file attached to your submission by selecting the individual status for each file. You can also view your files in workspace by selecting the View In Workspace button.
Figure K
You can check the status of your submissions in the Mailbox page.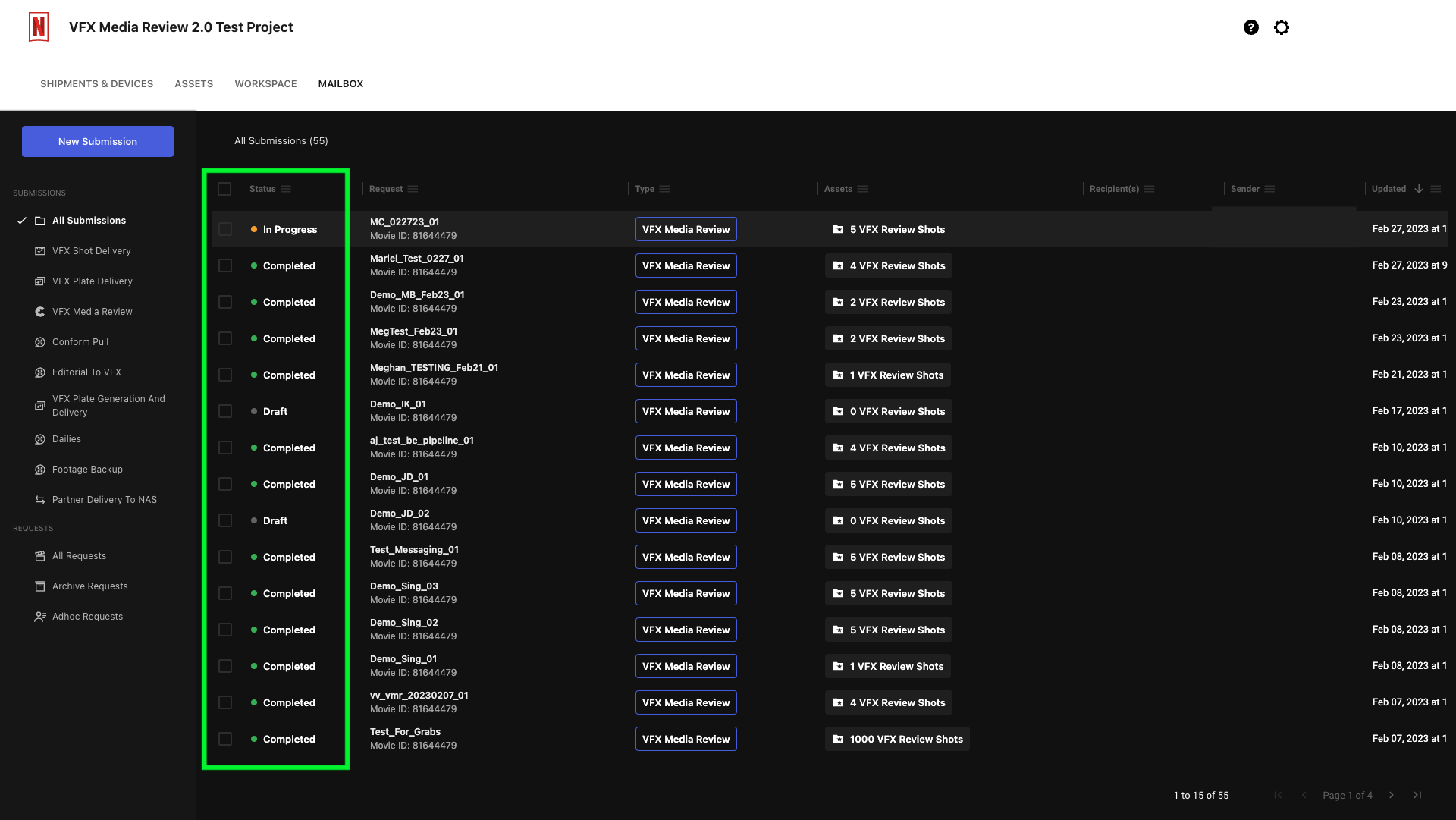 Figure L
If you are having trouble please follow these instructions on how to troubleshoot. If the troubleshooting steps do not resolve your issue, and this is an urgent submission, please follow instructions on how to share files from Workspace and share with your VFX Contact. Please also file a Content Hub support ticket. 
RELATED RESOURCES
Translations
Was this article helpful?
0 out of 0 found this helpful